FLORHAM PARK, N.J. -- After the two pathetic and pitiful pseudo-kickoffs, after the stubborn refusal to say how far she'd ever actually kicked a football, Lauren Silberman still could have salvaged her day.
She could have looked at the reporters from the 30-odd media outlets gathered at the New York Jets' facility, stared straight at the 20 television cameras filming this regional scouting combine and said:
"The NFL opened this amazing door for me. I am a young entrepreneur. I have created a product geared toward professional athletes and I would be a lousy businesswoman if I didn't seize this once-in-a-lifetime platform."
But oh no, she didn't say that. She didn't even come close. She insisted she'd trained and over-trained, but she wouldn't say when exactly she first kicked a football. She swore she was better than what she showed Sunday, but wouldn't offer any anecdotal evidence to even suggest that. She crowed that she had done this as an inspiration to women, but didn't offer homage to any female athlete who has not only appeared but achieved in a hitherto man's sport.
Fox News, USA Today, NFL Network -- we all walked into the Jets' freezing indoor facility, full well knowing we were being used. No one came to this regional combine, one of 10 such events the NFL stages to unearth talent, thinking that this never-played-football-before woman would be impressive enough to be the next Greg Zuerlein (2012 St. Louis Rams rookie sensation and regional combine alum). But everyone hoped there was a story here. A young, thoughtful video-game innovator with the courage and wherewithal to commit to an endeavor and compete with men far more experienced than her in that endeavor. Even Stephen Austin, the director of these regional combines and the man who takes five scouts with over 150 years of NFL scouting experience around the country with him, openly said he'd wished Silberman the best and wanted to see her do well.
What he -- and we -- saw was a sideshow. A delusional, haughty, heartbreaking sideshow.
These regional combines are not a joke. A year ago, 1,900 aspirants attended one of these combines. Of that group, 124 went on to the super regional combine at Ford Field, 87 were signed by the start of NFL training camps and 43 were with teams on opening day. According to Austin's staff, there are currently 28 players on active rosters and practice squads who came out of these regional combines.
As of now, the only requirement to attend one of these combines is that one pay an entrance fee ($275 for kickers and punters) and provide proof of eligibility for the NFL draft. After Sunday in New Jersey, that will change. There will be some sort of additional pre-screening. Thanks to Silberman.
Now, to be wholly fair, Silberman isn't the only applicant to be outclassed at one of these combines. And also to be fair, she said she had hurt her quad earlier in the week and aborted her kicking Sunday before she could attempt any field goals -- not out of shame, according to Silberman, but because she had aggravated the injury. She yelped after her first kickoff traveled about 19 yards and eventually met with the media throng awaiting her with ice wrapped around her right thigh. But to also be fair, she tucked prepared remarks in her bag for the media, even though she didn't read them. And worse, she disrespected the 37 other kickers in New Jersey on Sunday who've spent lifetimes honing their craft. She blithely said her friends saw her kick somewhere in that amorphous time she began kicking and told her, "You should try out for the NFL." Like it's that easy.
When Candace Parker was allowed to compete in the McDonald's All-American dunk contest, it was because she could dunk a basketball. When Annika Sorenstam participated in the Bank of America Colonial PGA tournament, it was because she was the best female golfer on the planet. Even when video of little Sam Gordon playing pee-wee football went viral and rocketed her into the NFL Network studios, it wasn't because she was a little girl; it was because she could hold her own with -- and be better than (!) -- all those little boys.
Those women worked and they dedicated themselves. Injured or not, Silberman obviously hasn't yet. To her fellow competitors' credit, they didn't titter behind their hands and they didn't ostracize her. One helped her figure out how to use a kicking tee, another how many steps she needed to take to line up for a kickoff.
University of Pittsburgh kicker Kevin Harper nailed his first five field-goal attempts and then had the sixth, from 55 yards out, hit the crossbar. He will have representatives from all 32 teams at the Panthers' pro day Wednesday, and yet he still undertook the expense of coming out here to get ready for that scrutiny. He is serious and he is focused. When asked about Silberman, Harper politely smiled and sincerely said, "It is an equal-opportunity world, and I'm glad she got to participate."
Katie Hnida, the real female place-kicking trailblazer -- the one who kicked for years before she tried out for her high school team and even more years before she walked on first at Colorado and then at New Mexico -- was too classy to knock Silberman as well. She's a woman, she pulls for women and she still mentors young female kickers all around the country who are toiling, day in and day out, to prove their exceptionalism. She expressed sorrow that it didn't go better for Silberman. And then Hnida was told Silberman said, "I really hope this shines a spotlight on sports generally for women."
2013 pro days schedule by date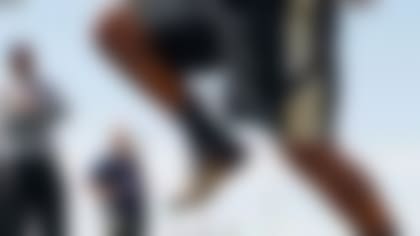 Between the combine and the draft, prospects work out for scouts at individual pro days at their respective schools. Full schedule.
Then finally, Hnida said she didn't want to go there.
Fine, then allow me: This wasn't the spotlight we were looking for.