Perhaps Manning already knew what the Broncos had in tight end Julius Thomas, whose two touchdown catches and 110 receiving yards sent reporters scrambling to uncover his now-familiar backstory -- that of a converted college basketball player who played just one year of college football before the Broncos drafted him, only to have his first two seasons scuttled by injury -- and gave pause to those who thought they already were familiar with Manning's preferred targets.
"You want guys that make teams have a discussion: 'How are we going to handle this guy?' " Manning said that night.
The answer, it turned out, was, Not all that well.
Among all the weapons the Broncos assembled around Manning, Thomas was the breakout star of 2013's record-setting offense, earning his first Pro Bowl selection by amassing the second-most touchdown receptions (12, which was tied for fifth in the NFL) and the third-most receiving yards (788 -- 10 more than Wes Welker) on the team. The most tantalizing wrinkle, as the Broncos attempt to make the arduous trip back to the Super Bowl in the 2014 campaign, is what Thomas willingly admits now, entering his fourth season: He's just barely figured out what he's doing out there.
"Would it be fair for me to say, 'Maybe a couple of weeks ago'?" Thomas said in a recent conversation, when asked when he finally started to feel comfortable with football. "Seriously. Last year, I was able to do a lot of good things. I kind of survived on self-confidence and athleticism. In one game, the defense did something, and Peyton was like, 'Julius, did you see that?' And I said, 'Peyton, they got me; I had no clue what they were doing.' There are still situations I haven't been in before, and I'm still learning what to do."
That Thomas was such a critical contributor while essentially learning Tight End 101 is bad news for opponents -- but very encouraging for the Broncos. This season, Denver almost certainly will lean even more on the big target that the 6-foot-5, 250-pound Thomas presents, with veteran Eric Decker gone to the New York Jets and rookie Cody Latimer and free-agent signee Emmanuel Sanders still learning the Broncos' offense and gaining Manning's trust.
Just before the Broncos began their minicamp last week, John Elway confirmed the obvious -- that Thomas is now part of the long-term plan -- when he told The Denver Post that he had already begun negotiations on contract extensions for Thomas and receiver Demaryius Thomas, both of whom are in the final years of their respective rookie deals.
If Julius Thomas is still closer to the base than the apex of the learning curve, though, it bodes well for his future and Denver's offense. Broncos tight ends coach Clancy Barone compares Thomas' intelligence and maturity -- along with his gym-rat study habits -- to qualities displayed by San Diego's Antonio Gates, whom Barone coached during his time with the Chargers. They also share great balance and change-of-direction ability, Barone said.
But Thomas was much more of a long shot to succeed in the NFL than Gates, because Thomas had not played varsity football until he was convinced to remain at Portland State -- where he spent four years on the basketball team while earning an undergraduate degree -- to participate in one season on the gridiron. Gates, on the other hand, was one of the country's top tight end prospects coming out of high school before he opted to devote his collegiate attention to basketball.
Thomas, in fact, had not really studied the tight end position until he was leaving Portland State, whereupon he cobbled together a tape of every catch made by Gates, Tony Gonzalez and Jason Witten in the 2010 season.
"I would watch it every single morning," Thomas said. "I'd see how they worked against different leverages, how they manipulated man coverage. I don't even know everything I was watching. I would just watch it over and over. And that helped me, from a route-running standpoint. I can't say it helped me catch up, because I'm not sure that is possible."
It's tough to predict how well someone with a limited football background will transition to the NFL, in large part because the physical demands when live hitting begins are so much greater than most players expect. Meanwhile, mastering a playbook that grows every week, as coaches add bits and pieces throughout the season, is immensely mentally taxing, particularly for players who are still learning the fundamentals of the game.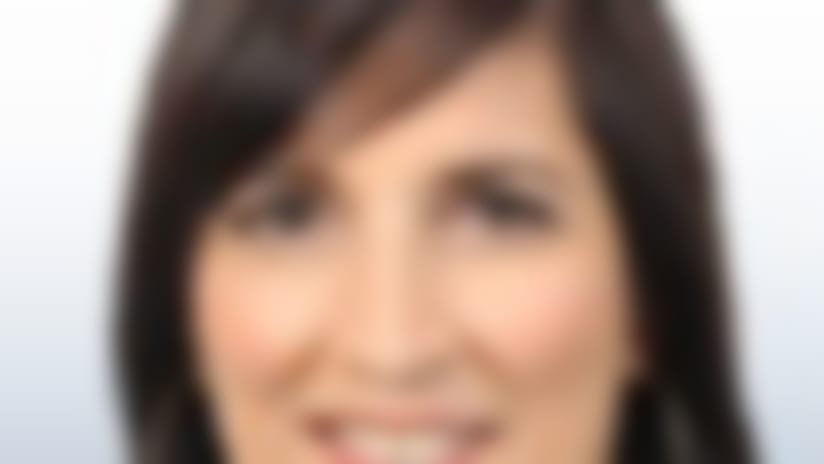 Erik Swoope spent years prepping to be a pro -- on the basketball court. Judy Battista details the creation of a tight end.  READ
Barone was convinced that Thomas would be a success story, though, when he made a personal visit to Portland State to meet with Thomas before the 2011 NFL Draft.
"I got him on the board, took him through a sample of what an NFL workday would be like," Barone said. "At 7:30 a.m., watching film, we were on the board. I was trying to teach him plays -- pass protection and run blocking -- and then we went out to the field to see him perform what I just taught him. We went from 7 a.m. until 6 p.m. When I left, I thought, This kid gets it. I told John Elway and John Fox, 'Give this kid about three years to figure things out, and after three seasons, we'll like what we have.' "
That timeline might have been sped up significantly, considering that Thomas, who was drafted by the Broncos in the fourth round that year, was in the starting lineup of his rookie season opener, even though he arrived with -- as Barone put it -- "the physique of a 15-year-old" and didn't get his playbook until late July because of that offseason's lockout. The Broncos had put plenty of thought into his development. They signed veteran tight end Daniel Fells in part to mentor Thomas, to teach him how to study film and the playbook, how to prepare his body, how to practice -- the rudimentary things Thomas had known nothing about.
But in the second game of his rookie season, on the very first reception of his career, Thomas suffered an ankle injury that, combined with the surgery that followed it, largely stunted his first two campaigns. From 2011 to 2012, Thomas played in just nine games total. Last season was his first that followed a regular offseason of preparation, meaning that while he might be entering his fourth season, he is really just in Year 2 of full football time.
"Whenever he sees something, he's seeing it for the first time," Barone said. "In his mind, he's always going through rookie growth because of his lack of reps. He is so much further along. He looks better, he's so much more solid and muscular, he's so much stronger than he was at this time last year."
Thomas remains so early in his football development that he still marvels at the meticulousness and detail of football and at the length of the days of preparation. And while he is excited at the progress he will make after having a full season behind him, Thomas said that learning the game has been the toughest thing he's had to do in his life.
"The hardest part for me was going from playing a sport you were comfortable with, you knew what was expected of you, then you're not really sure how to do anything," Thomas said. "For me, it was a long time where I felt like all I'm doing is doing it wrong. It's hard to get better at something when you're trying to do something going up against somebody who is the best in the world at not letting that happen."
It is a sensation the defenders who line up against Thomas might soon become familiar with.