JERSEY CITY, N.J. -- Up 14-0 early in the third quarter, one of Peyton Manning's newest weapons had a little hiccup. Tight end Julius Thomas jumped before the snap -- committing a costly-in-the-moment false start on third-and-6.
"(Bleeping) Julius!" Manning was heard saying.
Yes, even after Thomas provided Manning with an unsuspecting 12 touchdowns and a Pro Bowl performance this season, manufactured seemingly out of thin air, the quarterback continues to keep a very close eye on (Bleeping) Julius.
It is perhaps the most intriguing relationship in Super Bowl XLVIII, possibly the most incredible juxtaposition between two players who have relied on one another to reach this point: a master of his craft and a novice of this sport.
This is Mozart teaching a middle-school music class. This is Jack Nicklaus giving golf lessons at the local municipal. This is, well, perhaps the greatest quarterback ever to set foot on the field training a player who is just four years removed from a college basketball career.
"Peyton has said it before -- sometimes he needs to remind himself that I haven't been doing this very long," Thomas told NFL.com on Wednesday. "But by no means does he let me off the hook for anything. I'm just a guy who has to be there longer, who has to spend a little more time in the classroom preparing."
Consider Thomas' fascinating (and recent) career arc: He played four seasons of basketball at Portland State, waiting until his final year at the school to even give football a shot. The experiment worked well enough for the Broncos to take him in the fourth round of the 2011 NFL Draft, but injuries held him back when Manning first arrived.
"I remember the first time throwing to him, his size jumps out to you," Manning said. "This is a 6-5 tight end with broad shoulders, and he could really run. But next thing you know, he gets injured.
"I only got to see a couple of throwing sessions with him, but what I saw early on I was impressed with. It was exciting to get him back this year, and he has just bought in."
It wasn't until Manning's tutelage took over that Thomas' ascent truly began. And the ascent -- which included two touchdowns and 110 receiving yards in a startling season-opening performance -- was a ridiculously rapid one.
"There's nobody in the NFL who is learning as much as I am every single day," Thomas said.
The credit, of course, shouldn't all be bestowed on Manning. Thomas is an intelligent man, clearly a student of the game (albeit a new one), and his physical gifts seemingly allow him to compensate for any lack of knowledge. Given his rare combination of height and speed, he realizes sometimes it's best not to think that much at all.
"When you have the ball in your hands, there's no coaching that -- that's what you've had since birth," Thomas said. "My coaches always say, 'Don't overthink it. Just go out there and play.' If you want to set yourself apart, you've got to make plays.
"I think athletic savviness is probably innate, something somebody is born with. It's the ability to be a good athlete. But as far as football savviness, it just comes with time."
That football savviness is undoubtedly coming. Thomas estimates that he only spends about 20 percent of his plays in a traditional tight end alignment with his hand in the dirt. On the other 80 percent, he's being utilized in a variety of roles, whether in the slot or out wide mimicking a receiver like Demaryius Thomas.
It is this versatility that creates some considerable challenges for opposing defenses. If a team chooses to defend him in zone coverage, he can often wind up drawing a defensive back who lacks the size to cover him. And if a team switches to man coverage, it must decide who to put against him.
"We never know how they're going to adjust to us," Thomas said. "Every time I line up ... sometimes it's a corner, a safety, a linebacker. We just want to change it up and give different looks."
Changing it up means learning a tremendous amount in a short span. Coupled with the high expectations of Manning, it's been a daunting few years. Thomas said formal sit-down tutorials with Manning are rare; the quarterback's tutelage is instead a nonstop process.
The Broncos' offensive system essentially requires every player to understand every position on the field, which means Thomas not only has to learn how to be an NFL tight end, but also grasp the assignments of, for instance, the running backs.
"I have no problem saying we have one of the most complex offenses, one of the most difficult to learn," Thomas said. "We do so many things. Would it have been easier to learn a different system first? Maybe. But I appreciate this system."
Just imagine Thomas' potential once he has far more football experience. As he said Wednesday, in reference to a chapter of Malcolm Gladwell's "Outliers,") he is far from logging the 10,000 hours necessary to master any craft. And yet, as he prepares for the NFL's biggest stage, he is being called upon to be a key contributor.
Thomas has the potential to become a truly special player in the league for a long time. But before he gets there, he'll first try to help his tutor secure his own legacy with another Super Bowl ring.
Debate: Most Valuable Player?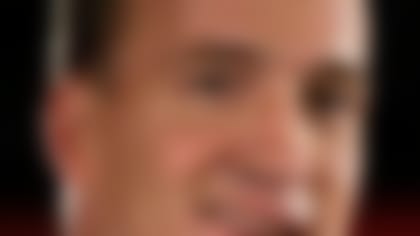 After all, if it wasn't for Manning, this career arc might have been quite different for (Bleeping) Julius.
"Every day, I see how much (Manning) prepares," Thomas said. "I see the little things that he does to make sure he's on top of his game. I try to recreate that in my preparation.
"I always say, if anybody can have the attention to detail that Peyton has, in whatever they do in life, you're going to have a great chance to be successful."