Johnny Manziel, better known as "Johnny Football," might be the best player in college football, but that doesn't make him an elite NFL prospect. In fact, I believe the Heisman Trophy winner currently projects more like a marginal pro, based on his unimpressive physical dimensions and unrefined game as a pocket passer.
Now, I know that the legions of Johnny Manziel fans will take exception to my assessment, but my opinion is based on the fact that elite NFL quarterback prospects possess three or four blue-chip traits (from a list that includes size, athleticism, arm talent, leadership skills, clutch factor, intelligence and pocket-passing skills) that validate their status as potential franchise players. I've studied the Texas A&M star's 2012 game tape, and I simply don't believe that he has enough of those qualities at this time to merit serious consideration as an elite quarterback prospect.
Sure, I'm impressed by Manziel's playmaking ability and improvisational skills. Whether he's brilliantly executing zone-read concepts or dropping jaws with a scramble-and-toss, Manziel is one of the most electrifying college players I've seen. He makes defensive coordinators hold their breath when he escapes the pocket with the ball in his hands.
The NFL game, however, requires quarterbacks to play with poise, discipline and patience from within the pocket. Pro quarterbacks must be able to string together completions by making pinpoint throws to every area of the field. Additionally, they must display the anticipation, timing and awareness to be able to exploit the vulnerabilities of opponents who opt to play coverage over pressure in critical situations. This requires a keen understanding of defensive concepts.
For Johnny Football to be viewed as a legitimate franchise quarterback in the eyes of NFL evaluators, he must show he can thrive in these areas while also demonstrating the requisite toughness, leadership skills and big-game moxie. Coaches and scouts will closely examine his every movement and reaction, to see if he's capable of carrying an NFL franchise to championship heights. Moreover, they will take a hard look at his game, to see how well it translates to the NFL.
Here's how Manziel stacks up in four crucial areas:
Manziel is an extraordinary athlete with exceptional speed, quickness and movement skills. He displays great short-area burst and, based on the way he regularly runs away from defenders outside the pocket, appears to have mid-4.5 speed. Additionally, Manziel shows outstanding agility and change-of-direction skills in traffic. He is slippery and elusive in tight quarters, which makes him nearly impossible to bring down on scrambles. Manziel amassed more than 900 of his 1,410 rushing yards on improvisational runs. This didn't just put tremendous pressure on the defense; it altered the way opponents game-planned for the Aggies. Defensive coordinators would instruct their defenders -- particularly on the defensive line -- not to rush too far up the field, out of respect for Manziel's explosive running skills. And don't forget, the Aggies also feature the zone-read option prominently in their game plan, which underscores how important Manziel's remarkable athleticism is to the success of their offense.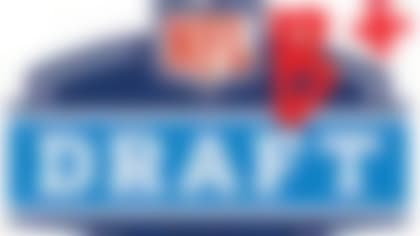 The draft is finally behind us. How did everybody do? Bucky Brooks breaks out the red pen and grades all 32 teams by division. More ...
Manziel was one of the most effective and efficient passers in college football last season, but he lacks impressive arm talent. He doesn't put tremendous zip or velocity on his throws, and his ball tends to die at the end of deep tosses. Manziel is at his best making short and intermediate throws in the passing game. He quickly gets the ball out of his hands and routinely delivers accurate strikes to receivers on the move up to 15 yards out. The pinpoint placement of his throws allows receivers to pick up valuable yardage after each reception, which helps the Aggies' high-powered offense stay on schedule.
Manziel will occasionally push the ball down the field for an explosive completion (passes over 20 yards), but those throws are successful because of his excellent timing and anticipation -- not because of his arm strength. When he does go long, he is most consistently successful with post-corners on the smash concept (the outside receiver runs a hitch or a snag, with the slot receiver running a corner directed at 25 yards down the field) and with fade routes or seam patterns released quickly after three-step drops. In those instances, his throws rarely travel more than 40 yards in the air. Thus, these plays allow the Aggies to feature a vertical game without taxing Manziel's arm.
Sure, we've seen quarterbacks become effective passers in the NFL despite lacking a big arm, but they're exceptions to the rule. Manziel must show he can make more pro-like throws if he wants to be considered a potential franchise-caliber signal-caller.
Manziel shows exceptional poise, patience and awareness in the pocket. He has a remarkable sense of the pass rush and rarely appears rattled when the pocket collapses. He simply finds open creases through which to escape while keeping his eyes down the field, searching for open receivers on the move. Manziel is a surprisingly accurate thrower from unorthodox positions, which makes his ability to avoid and elude defenders in the pocket dangerous, especially considering how difficult it is for defensive backs to stick with their assigned receivers for extended periods of time down the field. Manziel's ability to lengthen plays with his feet creates explosive opportunities in the passing game on broken plays.
Harrison: Post-draft Power Rankings
After the 2013 NFL Draft, Elliot Harrison updates his Power Rankings, with plenty of teams moving up and down the board. More ...
While his improvisational skills are certainly impressive, I'm concerned about his ability to play the game effectively from the pocket. Defensive coordinators will eventually adjust to his spectacular "sandlot" game, and he'll be forced to win with his arm instead of his feet. Just as they've done to athletic playmakers like Michael Vick, Robert Griffin III and Cam Newton, NFL defensive play callers will use various strategies to keep Manziel confined to the pocket, taking away his fastball (his athleticism and improvisational skills). The Heisman Trophy winner must show opponents that he can string together completions on drop-back throws, and that he isn't always looking to flee the pocket at first opportunity. Increased pocket patience will test Manziel's physical talents and his ability to process information quickly and make sound decisions.
From a physical standpoint, Manziel's performance from the pocket might be impacted by his diminutive stature. He's listed at 6-foot-1 and 200 pounds, but we should remember that most prospects fall short of their reported dimensions when officially measured by NFL personnel. There will be concerns about Manziel's ability to find passing lanes among big bodies at the line of scrimmage; will he have a number of throws tipped or batted away at the next level? Scouts will watch how effectively he plays from the pocket, using those results to determine if he can thrive in a traditional passing game.
On the mental side, Manziel must show he can adjust to the various tactics thrown at him by defensive play callers. Whether the other team is dropping seven or eight defenders into coverage or sending heavy blitz pressure, Manziel must show he can exploit the weakness of the defense without getting rattled or confused. Additionally, he must prove that he has the timing and anticipation to make precise throws into tight windows based on his pre-snap reads and post-snap reactions; this is critical to becoming an effective passer in the NFL. It is imperative for Manziel to put some solid examples on tape if he wants to enhance perception of his pro potential.
Manziel won the Heisman Trophy last season thanks in large part to a spectacular performance against Alabama on the road. He demonstrated exceptional poise, patience and discipline as a passer, while using his remarkable athleticism to provide observers with some sensational highlights. Manziel's ability to thrive in a big moment on a national stage told evaluators a lot about his confidence and composure under pressure. Still, scouts will want to see more examples of his big-game ability.
Brooks: Top college players in 2013
With the 2013 NFL Draft in the books, Bucky Brooks shifts to the next group of prospects, ranking the top 30 college players. More ...
When I look back at Manziel's redshirt freshman season, I certainly see enough flashes to believe he possesses the skills to deliver in critical moments as a pro. He led the Aggies to an undefeated road record (6-0), then sparked a surprisingly easy victory over Oklahoma in the Cotton Bowl. During each of those wins, Manziel delivered a number of impact plays with his arm and feet. And most importantly, he routinely demonstrated the ability to make critical plays when the outcome of the game was hanging in the balance.
Evaluators will, of course, spend time breaking down his performance in losses to Florida and LSU. In those efforts, Manziel was confined to the pocket, unable to make the kinds of spectacular plays that have become a signature part of his repertoire. This was particularly evident in the loss to LSU, during which Manziel completed just 29 of 56 passes for 276 yards, gave up three interceptions and was held to 27 rushing yards on 17 attempts. Those numbers were dramatically worse than his season averages -- which might be telling, considering how many pro prospects were dotting the Tigers' roster at the time (six defenders from LSU's starting lineup that day went on to be drafted last month). Their collective speed and athleticism seemed to nullify Manziel as a threat. Unable to run away from the defense, Manziel failed to demonstrate enough effectiveness as a pocket passer to win with just his right arm. Given that pro defenses will feature even more big, physical and fast athletes, questions regarding Manziel's ability to thrive in the NFL are valid.
The continual evaluation of Johnny Football makes for a fascinating storyline, because he will test the standards of quarterback play at the NFL level. He is an unconventional playmaker with outstanding athleticism and running skills who is at his best when improvising and playing "sandlot" football -- something that will be hard to do in the NFL. Additionally, he lacks the requisite physical dimensions and pocket-passing skills that most evaluators covet in franchise quarterbacks. While comparisons to Russell Wilson will be made, based on the similarly short Wilson's success with the Seattle Seahawks, I would contend that Wilson was a more polished and accomplished passer as a collegian. He also played in pro-style offenses at N.C. State and Wisconsin, preparing him for the rigors of life in the NFL.
I believe Doug Flutie is a more apt comparison when it comes to Manziel. Flutie was an effective improvisational playmaker as a pro who could also play the game from the pocket. After spending years refining his craft in the Canadian Football League, Flutie landed in the NFL and enjoyed a successful stint as a starting quarterback. Manziel will certainly get his chance, but I don't believe he is a top quarterback prospect at this time.