Philadelphia Eagles offensive tackle Jason Peters was arrested early Wednesday morning in Monroe, La., after allegedly drag racing and resisting arrest by flight, the Ouachita Parish Sheriff's Office confirmed to NFL.com and NFL Network. The News-Star first reported the news.
Deputy L. Deal said he saw a white Camaro and blue sedan waiting at the same red light at 4:45 a.m. CT and that the cars began racing once the light turned green, according to the arrest affidavit first obtained by The News-Star. After the deputy activated the emergency lights, the Camaro, driven by Peters, allegedly sped away while the blue sedan immediately pulled over. The affidavit said the Camaro was clocked at speeds of 100-mph-plus during the deputy's pursuit.
Debate: Most enticing QB battle?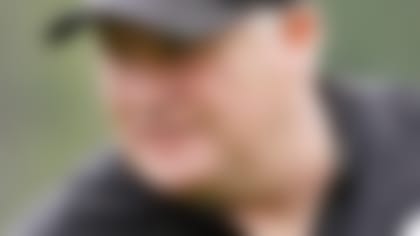 Which team has the most intriguing quarterback competition: the tabloid-friendly Jets or Chip Kelly's Eagles? **More ...**
The police said Peters' Camaro later exited the highway and pulled over into a shopping-center parking lot. The deputy instructed Peters to step out of his vehicle, which he did. Peters then was arrested and booked at Ouachita Correctional Center. He was released on bond at approximately 7:45 a.m. CT on Wednesday. The amount of the bond wasn't disclosed.
"We are aware of the reports that Jason Peters was arrested this morning in Louisiana," the Eagles said in a statement obtained by The Associated Press. "We have been in contact with Jason, and due to the legal nature of this matter, we will not have any further comment at this point."
Peters, a five-time Pro Bowl pick, signed with the Buffalo Bills as an undrafted free agent in 2004. The Eagles traded a 2009 first-round draft pick to acquire Peters from the Bills during the 2009 offseason. He missed all of the 2012 season with a ruptured Achilles tendon, but he has been fully cleared for participation in Eagles practices this offseason.
Peters' other known arrest came in March 2011, when he was charged with disturbing the peace and resisting arrest while he was in Shreveport, La., for a concert featuring rapper Rick Ross. According to records, an officer asked Peters to turn down the volume on the stereo in his vehicle, and he didn't cooperate. According to reports, Peters refused to show the officer his license, which resulted in the charge of resisting arrest.
The Associated Press contributed to this report.