Pep Hamilton finally appears on board with opening up the offense and riding Andrew Luck's magical arm.
The Colts clearly plan an uptick in utilization of the no-huddle offense, which works to Luck's strengths. The offense has been more aggressive attacking through the passing game, which should be even more noticeable when Reggie Wayne re-joins his teammates on the field.
If Hakeem Nicks continues to perform in the fashion he did last week the trio of he, Wayne and T.Y. Hilton give Luck a potent combination. Another aspect of the pass offense we can buy is the tight end combination of Dwayne Allen and Coby Fleener. Allen's versatility allows the Colts to run the no-huddle more fluidly given his blocking ability and athleticism in the pass game.
The biggest question entering the offseason remains the biggest concern after training camp: Can the offensive line hold up?
The group displays next to no push in the running game, making life that much harder for an already halting Trent Richardson. And if the Colts can't solidify the middle in the passing game we'll have to watch Luck take a beating for a third straight season.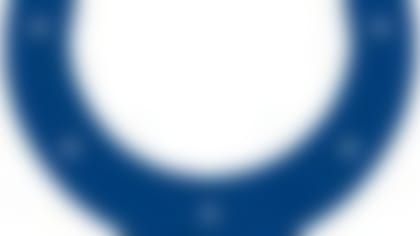 One striking positive coming out of camp has been the stoutness and depth of the Colts defensive line. While the question of who will fill the gaping pass-rushing hole left by Robert Mathis during his suspension remains, the unit's play as a whole thus far is encouraging for a shaky defense.
New interior starters Arthur Jones and Josh Chapman have helped solidify the interior, giving the Colts one of the better run defenses out of the gate. There are still big questions in the back seven, but once the 2013 sack leader returns from suspension, the front could be a force.
What we'll be saying in February
We'll once again be wondering what Andrew Luck could do if the Colts one day gave him a solid offensive line.
Around The NFL's predicted finish: First place in AFC South, No. 4 seed in AFC playoffs, No. 13 in Around The NFL's Power Index.