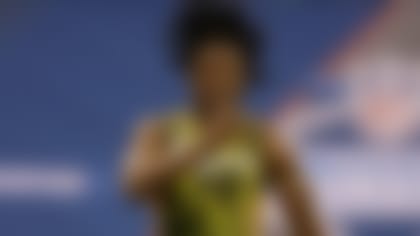 At the annual NFL Scouting Combine, athletes perform a number of workouts and exercises to showcase their athleticism to NFL scouts, coaches and general managers. Among the exercises is the vertical jump.
The vertical jump is all about lower-body explosion and power. The athlete stands flat-footed and they measure his reach. It is important to accurately measure the reach, because the differential between the reach and the flag the athlete touches when he jumps is his vertical jump measurement.
Want to improve your vertical jump? Follow these workout steps, detailed in the video above.
Ascending Box Jump Workout
1. Place several boxes or platforms of ascending height in a row
2. Jump up on the smallest box making sure to use your arms to gain explosion
3. Jump down from the box then quickly jump up to the next box
4. Continue this until the final box
Looking for more workout tips and combine drills from the NFL's elite? Check out NFL Up! to get fit like your favorite players.