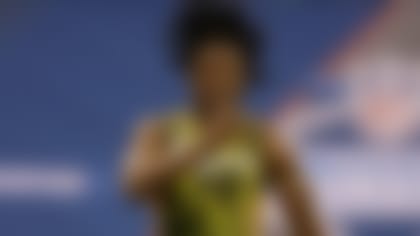 At the annual NFL Scouting Combine, athletes perform a number of workouts and exercises to showcase their athleticism to NFL scouts, coaches and general managers. Among the exercises is the three-cone drill.
The three-cone drill tests an athlete's ability to change directions at a high speed. Athletes run a pattern through three cones in an L-shape. He starts from the starting line, goes five yards to the first cone and back. Then, he turns, runs around the second cone, runs a weave around the third cone, which is the high point of the L, changes directions, comes back around that second cone and finishes. The drill forces an athlete to show great footwork and quickness in changing directions -- two keys to playing at the professional level.
Want to improve your time in the three-cone drill? Follow these workout steps, detailed in the video above.
Straight line three cone-drill practice
1. Place three cones equidistant from each other in a straight line within five yards
2. Start at one and run serpentine through the cones making sure to stay wide when rounding the middle cone
3. Whip around the third cone and sprint back towards the first cone in a straight line
Looking for more workout tips and combine drills from the NFL's elite? Check out NFL Up! to get fit like your favorite players.