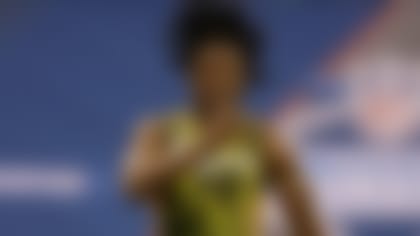 At the annual NFL Scouting Combine, athletes perform a number of workouts and exercises to showcase their athleticism to NFL scouts, coaches and general managers. Among the exercises is the shuttle run.
The short shuttle is the first of the cone drills. It is known as the 5-10-5. What it tests is the athlete's lateral quickness and explosion in short areas. The athlete starts in the three-point stance, explodes out five yards to his right, touches the line, goes back 10 yards to his left, touches the line with his left hand, pivots, and then he turns and runs five more yards to finish.
Want to improve your lateral quickness and shuttle run time? Follow these workout steps, detailed in the video above.
1. Going towards your right, start with the instep of your feet outside of your shoulders and your right foot back
2. Put your right hand down to the ground and get ready to take off
3. Take three steps within five yards and pivot your right foot around so that it is in front of your left foot. Make sure your right hand is on the ground near your right foot
4. Burst out 10 yards and mimic the same pivot and position with your left foot
Looking for more workout tips and combine drills from the NFL's elite? Check out NFL Up! to get fit like your favorite players.