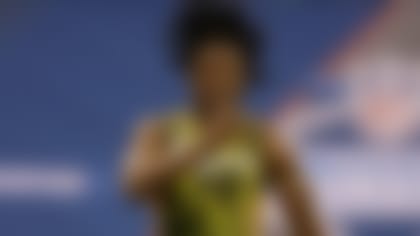 At the annual NFL Scouting Combine, athletes perform a number of workouts and exercises to showcase their athleticism to NFL scouts, coaches and general managers. Among the exercises is the broad jump.
The broad jump is like being in gym class back in junior high school. Basically, it is testing an athlete's lower-body explosion and lower-body strength. The athlete starts out with a balanced stance and then he explodes out as far as he can. It tests explosion and balance, because he has to land without moving.
Want to improve your broad jump? Follow these workout steps, detailed in the video above.
Resistance band hurdle jumps
1. Place a bungee cord or band around your waist and have a partner hold it from behind you
2. Place a small hurdle at a comfortable distance from you
3. At a 45 degree angle, look out and up from your landing spot. Jump out and up, using your arms for momentum and making sure to bring your knees up to a horizontal position
4. Bend your knees to gain your balance on the landing
Looking for more workout tips and combine drills from the NFL's elite? Check out NFL Up! to get fit like your favorite players.