Despite Johnson's request -- and Rapoport's report that four teams have expressed interest -- it makes absolutely no sense for the Texans to deal their best offensive player, the greatest player in franchise history.
There is no good reason to make a trade. And here's an educated take: The Texans know that. And so does Andre Johnson.
Current discontent stems from Johnson missing the early portion of offseason workouts, and inherently forfeiting a $1 million bonus. I can confirm that is the case, and according to multiple sources informed of the team's thinking, the Texans have no intention of letting Johnson find a way to work out extra to ensure he receives the money. And they shouldn't. Johnson knew the penalty when he skipped the workouts.
While some on the periphery might say the Texans should just pay their long-time star to make him happy and allow this situation to go away, that's just not going to happen. And, again, it shouldn't. That would be too much of a precedent-setting event.
Houston would take a cap hit of nearly $12 million in dead money by trading Johnson. That needs to be stressed as a signature point. It's beyond illogical.
So, how does Johnson get happy? Can the Texans count on him this season? How does the drama go away?
Actually, it's rather simple: Andre Johnson is a football player. The 11-year veteran is a fantastic worker and a wonderful teammate. The play here, for the Texans, is to bank on a few forces coming together.
First of all, it's July. Players get salty in the dog days, and this displeasure gets magnified and blown up with no action taking place on the gridiron. It's a ritual of spring and summer. What is a team like Houston to do? Call the bluff.
Johnson is going to show. Chances are he will be there for the first practice of Texans training camp. If he doesn't show up on Day 1, he will shortly thereafter. A switch goes on at some point for a football player, even one who's holding out for business reasons. Maybe it's missing the smell of the grass at training camp, missing teammates, dying to win. Players want to play football. Andre Johnson wants to play football.
Oh, and he also has 10 million reasons to show up.
Johnson is not walking away from his $10 million salary for this season. Houston doesn't need to sweeten the pot or give him extra incentive by guaranteeing his salary for 2015. In addition to being a prideful player, Johnson wants to receive his lucrative compensation for this season.
Sure, I know Ryan Fitzpatrick doesn't strike fear in the opposition or create excitement among Texans fans. But Bill O'Brien is a major upgrade at head coach, a guy who's primed to have an instant, Andy Reid-quality effect on his new team. Houston dominated the draft, as I wrote after the event concluded in May.
Johnson is a big part of the solution in 2014 -- and beyond -- as both a star player and leader.
Instant Debate: Fitz's future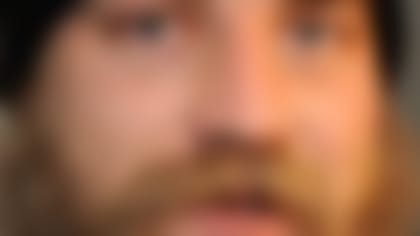 Houston was a bitter disappointment at 2-14 last year, but Johnson caught 109 passes and eclipsed 1,400 yards for the second consecutive season. Today is his 33rd birthday, but Johnson is hardly in decline. He's still a legit No. 1 receiver. And he sets the tone for the young players on the Texans' roster. While Fitzpatrick has been named the starting quarterback, rookie Tom Savage should factor into the equation at some point in the near future, and No. 80 certainly has the ability to smooth a transition.
Six months from now, after Johnson logs another 100-catch campaign for Houston and the Texans compete all season long, I bet we'll all be laughing about this dog-day drama.