So I'm still reeling from the mid-season finale of The Walking Dead. (Spoiler alert!) I sort of felt like they meandered around the first eight episodes just to get us back to the showdown with The Governor, but AMC isn't the first TV network to bleed its audience and give them filler episodes before one with a big payoff. Maybe I just expected more from a zombie show that's shown to have dialogue as rich as some of the best dramas in TV history. And a little off-topic, but if you're in a Walking Dead fantasy league, you have to spend some time replacing all the free agents you picked up over the last month. (Joe Toy, Joe Toy's brother, the girlfriend of the police trainee, Lila's daughter.) It's a crowded waiver wire. And don't forget - never let your kids play in the mud in a post-apocalyptic zombie world. Now let's tackle Higher/Lower.
Targets: Julian's the Edelman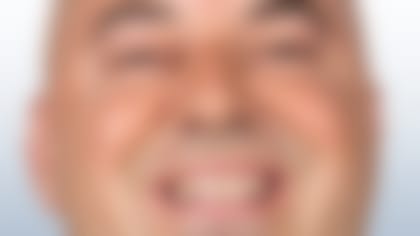 3:Number of quarterbacks I'm playing ahead of Nick Foles and Cam Newton.Push. You can't ignore results. Both have been outstanding. Newton has likely been your consistent starter all season long, while Foles has been elite since becoming the Eagles starting QB. Right now, my top five quarterback rankings look like this: 1) Peyton Manning, 2) Drew Brees, 3) Matthew Stafford, 4) Foles, 5) Newton. And that's how it's going to be for Week 14. They're all matchup-proof. Every other starting quarterback in the league -- not including the injured Aaron Rodgers -- you can make a case for not starting, depending on circumstances. But not these guys. Foles is especially valuable because no matter what happens in the game, Chip Kelly's going to run his up-tempo offense and throw the football a ton. That's incredibly rare, because for every other team in the league, if they get ahead or find success running the football, they will continue to do so and take the air out of the ball -- which means fewer fantasy points for your QB.
2:Ranking of Elsa in my 4-year old daughter's Disney Princess Power Rankings.Under. I admit, I didn't see this one coming. Ariel has been number one for such a long time I thought she was untouchable. However Elsa now has the top spot after we saw Frozen. Believe everything you've heard about the movie: the catchy songs, the great animation. If I was in a fantasy movie league I would have made Gravity and Frozen my top two picks for 2013. What surprised me the most, however, was Kristen Bell. Who knew she could sing? And sing Broadway-style like Idina Menzel to boot, which is incredibly hard to do. And now I'm off to pre-order Elsa's ice castle from Mattel.
10 percent:Chance I'll play Andrew Luck this week in my league of record's fantasy playoffs.Under. There's simply no way I can trust him -- as bad as he's been -- in Cincinnati with my playoffs on the line. It would be one thing if he were playing well, or playing at home or had a good matchup, but he isn't and he's not and he doesn't, so I can't. (Boy, I really went Colin Farrell In Bruges for that line.) This is one of the times where you look at a player's playoff schedule and have to re-think your usage of him. Chances are your waiver-wire options are thin, but I'm honestly more comfortable playing Ryan Fitzpatrick at Denver or even Joe Flacco versus Minnesota. Luck is the very definition of a matchup-based quarterback who's had one game of more than 14 fantasy points in the last month. Benching him is a lot easier than you think.
50 percent:Chance I'll play C.J. Spiller this week in my league of record's fantasy playoffs.Over. Despite how the Bills continue to run him early, watch him gain a lot of yards and then mainly use Fred Jackson in the second half, Spiller is becoming who we thought he would: the forgotten star who would disappear and not return until the end of the fantasy season and then he'd tear it up for you. Sort of like how (Spoiler alert!) Han Solo left after getting paid in Star Wars and you forgot about him until he knocked Darth Vader off of Luke's tail. The one thing that scares me is this is a bad matchup against Tampa Bay and all of us Spiller owners are going to put him in and watch him get us 3.5 fantasy points. I see it in my nightmares. But if I'm going to go down, I'm going down with the guy I took in the first @#$@# round who's finally playing well. And if I do lose, then I can blame Spiller. My hands will be clean.
70 percent:Chance I'll stream a defense this week.Over. That yell of triumph you hear is from everyone who picked up the Raiders defense to play against the Jets. Visions of turnovers and pick-sixes with a side of sacks are dancing in those owners' collective heads. I can't blame them. Are the Jets really going to fix their issues in a week? Yes, pick up Oakland's defense and yes, start them, but remember this isn't an elite D. They're not going to get you 15 fantasy points. But close to 10? Sure. I also like the Jets defense in this one. Watch it if you're planning to start Rashad Jennings this week. While no running back except Adrian Peterson has had more yards than him the last five weeks, the Jets defense simply gives up nothing on the ground to anyone. They're number one in the NFL in rushing yards per game allowed (77.0), total yards and yards-per-attempt (2.9). I have to have a real shallow bench to play Jennings Sunday. Other defenses that I'm up for streaming in Week 14 are Tampa Bay and Green Bay.
Jason Smith writes fantasy and other pith for nfl.com. You can see him as the host of NFL Fantasy Live that airs Sunday through Friday on NFL Network at 5 pm ET/2 pm PT and also at 1 am ET/10 pm PT. Listen to him on the NFL Fantasy Live podcast available at NFL.com and on iTunes. Reach out to him on Google plus or on Twitter @howaboutafresca. He only asks you never bring up when the Jets play poorly.