The curtain goes up tonight on a brand-new season of HBO's "Hard Knocks," and the Miami Dolphins appear ready for their closeup, with a three-way quarterback competition, a rookie head coach and the telegenic Chad Johnson just a few of the storylines to follow.
Here's what else is on tap Monday:
Darlington: 'Hard Knocks' primer
Jeff Darlington provides 10 Miami Dolphins storylines to watch for in Tuesday night's debut episode of "Hard Knocks." **More ...**
--Albert Breer takes a look at Andrew Luck's amazing football aptitude as he begins his NFL journey, while Daniel Jeremiah examines the preparation of last season's No. 1 overall pick: Observations on Cam Newton entering Year 2.
--NFL.com's Adam Schein writes that underneath the bluster, Rex Ryan is the right man to take the New York Jets to their first Super Bowl since Broadway Joe was a young buck.
Debate: QB controversy... to playoffs?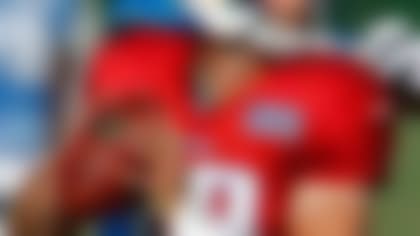 Four teams have notable QB battles taking place right now. Which one has the best shot at the playoffs? Let's debate! **More ...**
--How would Usain Bolt do in an NFL-style 40-yard dash? Around the League's Dan Hanzus ponders the possibility of a sub-four second 40.