But when your team is under the spotlight -- and the curtain is pulled back on your operation -- the pressure increases. And the pressure, most certainly, is on Andy Dalton and Marvin Lewis. These two must prove that they comprise the kind of QB/coach combination that will allow the Bengals to take that next step as a team.
In the NFL, you either have a franchise quarterback or you don't. Andy Dalton has been a successful winner over his first two years in the NFL. I can't take that away from him. I won't even try to minimize it. Dalton has guided the Bengals to the playoffs twice in two seasons (both times via a wild-card berth). He's 19-13 as a starter in the regular season. That's good. Dalton made Carson Palmer -- and Palmer's self-serving, team-hurting holdout -- a distant memory. That's important.
Now, ask yourself this: Is Cincinnati a team that currently has a franchise quarterback?
Take out a sheet of paper. Rank the quarterbacks in the NFL. Where do you have Dalton on your list? I have him as the 22nd-best quarterback in football.
One NFL executive told me on Monday night the ranking was "spot-on," while another wondered why he was "that high on the list."
Meanwhile, another executive from a playoff team said he would rank Dalton higher than I did, putting him "in the 17-20" range. I responded to that exec by asking him if Dalton was a franchise quarterback. His answer? "You can win with him if you have a great offensive coach and a strong defense."
Andy Dalton does not have a strong arm. He doesn't have great accuracy. He doesn't put fear in the opposition.
In the 2012 wild-card round, Dalton was dreadful, completing just 46.7 percent of his passes (14-for-30) for a paltry 127 yards. Houston beat Cincy again, 19-13. Despite Dalton's subpar play, the Bengals still had a chance to win the game. On a third-and-11 with three minutes left, A.J. Green somehow got behind the defense, giving Dalton plenty of space to hit his star receiver in the end zone. Dalton overthrew him. The Bengals lost.
In the 2011 wild-card game, Dalton averaged just 6.12 yards per pass attempt. That number shrank even lower in 2012's postseason contest, down to a miniscule 4.23.
Meanwhile, Marvin Lewis has been through a ton of zaniness in his time with the Bengals, from Chad Johnson becoming Chad Ochocinco to numerous player arrests to Palmer's rise ... then playoff knee injury ... then "retirement." And somehow, he's kept his wits about him.
Lewis is 79-80-1 as the Bengals' coach. As Bill Parcells once said, "You are what your record says you are." And yes, while it's true that Palmer's injury changed the fortunes of that 2005 playoff game against the Pittsburgh Steelers, it's also true that Lewis is winless in the playoffs with Cincy (0-4).
Take out a pen. Write down the names of the head coaches in the NFL. Where would you rank Marvin Lewis?
Now, think about the last two playoff losses against Houston. How would you characterize his game management? His challenges were flawed and counterproductive in both contests.
I would argue that defensive coordinator Mike Zimmer and offensive coordinator Jay Gruden both have the potential to be better head coaches than Lewis. It's a crime that Zimmer hasn't received a crack, given his defensive success and track record. He is the reason that the Bengals' defense gels and overachieves.
Debate: Top 'Hard Knocks' subplots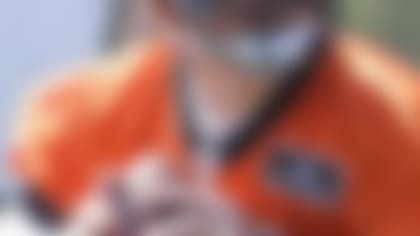 It's official: Andy Dalton and the Bengals will be featured on "Hard Knocks." What are Cincinnati's most enticing storylines? **More ...**
As one NFL executive phrased it, "Dalton and Lewis are fortunate they have one of the best coordinator tandems in the NFL."
Congrats to the Bengals on receiving their second "Hard Knocks" assignment (following their 2009 debut on the show). I can't wait to watch.
But this will only increase the intensity of an already bright spotlight on the quarterback and head coach.