INDIANAPOLIS -- The first day of workouts at the 2014 NFL Scouting Combine is in the books. While a number of prospects sent their stocks soaring up the charts, a few players now will need to make amends for poor performances during their pro day workouts down the road. Here are a few of my winners and losers from Day 1:
Greg Robinson, OT, Auburn: It's hard to find 332-pound offensive linemen with light feet and swivel hips, which is why the combine has been buzzing since Robinson stepped on the turf Saturday. Robinson put on a spectacular show during the workout, showcasing his outstanding athleticism and movement skills in front of scouts. Robinson clocked an official time of 4.92 seconds in the 40-yard dash, while also positing a 9-foot-5 broad jump. He complemented his impressive showing in speed and agility tests with a strong performance in positional drills. Robinson moved like a dancing bear on the turf, alleviating any concerns about his ability to take on elite pass rushers off the edge. Overall, the stellar workout in front of hundreds of scouts and coaches will not only send Robinson's draft stock soaring -- it could make him enter discussion as the draft's top overall prospect.
Jake Matthews, OT, Texas A&M: Matthews has been cast as a mediocre athlete by the national media, but that perception needs to change after evaluating his performance on Saturday. The Texas A&M star impressed scouts with his balance, body control and burst in position drills. Matthews showed flawless technique executing various kick-slide drills and pull/trap maneuvers. These drills showcased Matthews' superb agility and quickness, while also providing evaluators with a sneak peek at his exceptional footwork and balance in action. With Matthews also displaying better-than-anticipated speed (5.07 in the 40-yard dash), the draft board is starting to get crowded at the top.
Taylor Lewan, OT, Michigan: With much of the attention on Robinson, Lewan quietly provided an extraordinary all-around effort at the combine. He recorded the fastest 40 time among offensive linemen, while also displaying impressive explosiveness in the broad jump (9-9) and three-cone drill (7.39). Those marks not only reveal an elite athlete, but suggest that Lewan has the physical tools to be a Pro Bowl-caliber player at the next level. From a position-specific standpoint, Lewan showed exceptional footwork, agility and balance while executing various drills. He floated across the turf on lateral slides, but also showed outstanding body control while changing directions in tight quarters. The combination of athleticism and technical savvy displayed in the workout leads me to believe Lewan should be included in the conversation with Robinson and Matthews as top-10 talents at offensive tackle.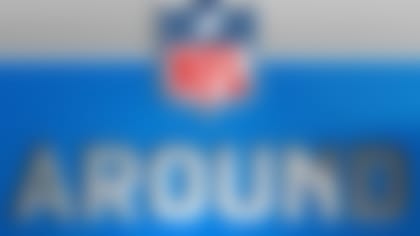 Cyrus Kouandjio, OT, Alabama: Scouts weren't expecting Kouandjio to post jaw-dropping numbers at the combine due to his massive frame, but even his staunchest supporters will have some concerns about his overall athleticism after glancing at the numbers from his workout. Kouandjio ranked near the bottom of his position group in the 40, broad jump, short shuttle and three-cone drill. Additionally, he looked a little sluggish in the change-of-direction drills of the positional workout. Although that's not surprising, based on his mauler/brawler style, the lack of short-area quickness and body control leads to more questions about his ability to handle speed and quickness off the edge. With failed physicals and concerns about long-term knee issues running rampant, it's quite possible Kouandijo slides down most boards following the combine.
Antonio "Tiny" Richardson, OT, Tennessee: Once hailed as a potential first-round selection, Richardson's stock is certain to tumble after a disappointing workout on Saturday. The Tennessee standout clocked an underwhelming 5.30-second 40 time and looked like a limited athlete in drills. He didn't exhibit the smoothness or fluidity that scouts expect from an elite edge blocker. Additionally, my colleague Charles Davis floated the possibility of knee issues torpedoing Richardson's stock. While those reports haven't been confirmed, the combination of medical questions and poor performance could knock Richardson down the charts despite the flashes he's shown throughout his career.
Austin Seferian-Jenkins, TE, Washington: Scouts were anxiously awaiting Seferian-Jenkins' workout to see if the Washington product possessed the athleticism and movement skills to make an immediate impact as a versatile tight end. However, a medical issue prevented Seferian-Jenkins from working out in front of his peers. Although the information regarding the failed medical clearance hasn't been revealed, Seferian-Jenkins missed an opportunity to perform in front of every decision maker in the NFL, thus preventing the former Huskies star from closing the gap on top TE prospect Eric Ebron. With all of Seferian-Jenkins' hopes riding on medical evaluations and an "all or nothing" workout later in the spring, the big-bodied tight end will sit on the backburner until both issues are resolved.
Guys in the spotlight on Day 2
Blake Bortles, QB, Central Florida: The hottest quarterback in the 2014 NFL Draft can make a good case to be the No. 1 overall pick with a strong performance on Sunday. With Teddy Bridgewater and Johnny Manziel opting out of throwing, the image of a prototypical quarterback firing darts to all areas of the field could leave a lasting impression on a decision maker looking to add a franchise quarterback to the roster.
AJ McCarron, QB, Alabama: McCarron will get a chance to show evaluators that he possesses the arm talent and moxie to be a championship-caliber quarterback at the next level. How well he throws the ball to his receivers on intermediate and vertical routes could determine if scouts view him as a legitimate NFL starter.