How convinced were the McElroys that their son would eventually be under center Sunday afternoon? Greg's mom, Jami, left to take a nap after the first series. Oh.
Instant Debate: Marked man?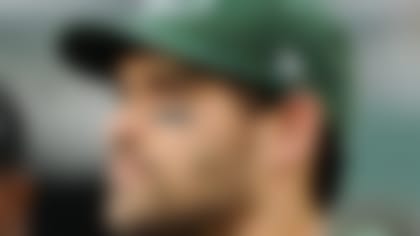 After another poor outing from Mark Sanchez, is it time for the Jets to opt for Tim Tebow or Greg McElroy? Let's debate! **More ...**
When Greg McElroy Sr. saw Ryan whispering to an assistant on TV after Sanchez had thrown his third interception of the day, the father just had a gut feeling about his son. He ran into the bedroom, woke his wife and yelled, "Mackey might be coming in!"
"It was surreal," said McElroy Sr., the Senior Vice President of Sales and Marketing for the Dallas Cowboys, from his Valley Ranch office. "She gets all crazy and jumps up and we run into the living room. Coming out of the commercial break, sure enough you see him warming up. Our hearts started pounding and beating and getting a little shaky. Just two nervous wrecks. But it was exciting."
By now, you know how this one goes. Sanchez was benched, and with the crowd chanting his name, McElroy saw his first NFL regular-season action with 4:48 to go in the third quarter. All he did was lead a run-heavy, 69-yard touchdown drive, capping it off with a one-yard scoring strike to tight end Jeff Cumberland -- the only TD of the game by either team. He ended his day an efficient 5-of-7 for 29 yards, and now the Jets have a quarterback controversy.
For his part, McElroy's father took the same view as his son. He's thrilled the opportunity came, but he'll react accordingly to whatever happens.
"If Mark plays, that's great," McElroy Sr. said. "He's happy being the backup or third-string -- whatever Rex wants to do. I know he'll just do what he's done the first 11 games and just work hard and prepare and at least he got to play in a game. You can always say, 'Hey, I threw a touchdown pass in the NFL.' So regardless of whatever happens at this point, he can say, 'I threw a touchdown pass with the New York Jets.' There's nothing wrong with that. That's pretty cool. Not a lot of people can say that. But if Rex decides to give him the ball, I know he'll work hard and prepare and do the best he can."
Since starring at Texas prep powerhouse Southlake Carroll, McElroy always has earned praise for his mind and his play. He's savvy, smart and always prepared. A whiz kid, they call him. It was the same story at the University of Alabama, where he helped guide the Crimson Tide to a national title. And did we mention he didn't lose a single game as a starting quarterback after eighth grade until his senior season at 'Bama.
It's why his father -- and anyone who knows Greg -- believe he'll be prepared.
"He's had great preparation leading up to this with where he's been," McElroy Sr. said. "At high school, he was at a big program, there's press around then. Obviously at Alabama, Nick (Saban) trusted him enough to have him deal with the press all the time, so he's had a lot of experience dealing with this. I think he'll handle it just fine. I was real proud of the way he handled yesterday after the game."
McElroy deftly handled the postgame press, diminishing controversy in a way that would make Saban proud. His parents weren't too nervous about that. They were, however, nervous during the game, despite seeing him play on similarly grand stages.
"I guess it was the fact that his whole life he's wanted to play in the NFL," the elder McElroy said. "You want to make your first opportunity a good one. You don't know how many you're going to get. In college, maybe you screw up the first one, first two and still get a chance. (In the NFL), you may not get another chance ever again. That on top of everything else made me a nervous wreck."
Their son wasn't nervous. At least he didn't look that way. They saw close-ups on the sidelines, noticed he was calm, and that helped. The way he played, there might be a few more nervous moments with him on the field.
Still, there is also a serious appreciation from the McElroys. Even early last week when McElroy told them he would dress because of Tebow's rib injury, they were pleased. To them, that was huge. Anything else was just icing.
" 'At least you'll get to dress one game this whole year,' " McElroy Sr. said he told his son. "First time he had ever dressed. So, I said, 'Good I didn't want you to go through the whole season and not get to dress.' So, we were excited by that. Just seeing him on the sidelines in a uniform ... We get excited just seeing him on the sidelines without a uniform. In one was pretty cool."