It was like clockwork. Each day in 2005, after then-Falcons head coach Jim Mora finished his media obligations and assistant coaches wrapped up post-practice work with their position groups, Mora would yell, "Knapper!"
Knapper, offensive coordinator Greg Knapp, would find Mora and they would jog to the base of a huge hill at the team's Flowery Branch facility. They would attack the hill, sometimes fading quickly. Sometimes getting after it like fresh-legged teenagers.
The routine wasn't just cathartic for the two highly stressed coaches, but it was an outward sign of their friendship. They were tight tight. Friends until the end.
Unfortunately, that end came on Thursday for Greg Knapp. The 58-year-old succumbed to injuries sustained July 17 when a car struck the bicycle he was riding near his offseason home in Northern California.
This tragedy has broken hearts across the NFL community. The number of calls and texts I alone have been part of is evidence of the network of coaches, players and media members who are all in different phases of shock and sorrow. Mind you, I am on the periphery of all the people who knew Greg Knapp.
None of us can imagine what the Knapps suffered over the past few days -- or what Greg's surviving family members will go through for the rest of their lives.
There's also his Falcons family. Broncos family. Raiders family. Texans family. Seahawks family. 49ers family. So many others whom Knapp impacted. He'd just started working with Robert Saleh's Jets, having been entrusted as the passing game coordinator for rookie QB Zach Wilson.
So many will be grieving.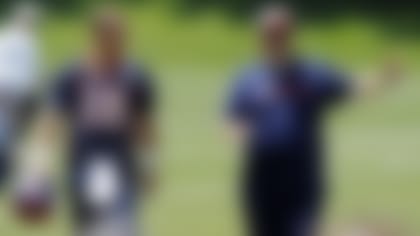 Knapp always seemed to be in a good place with himself, even when players, media and fans questioned his abilities and worthiness as a play-caller.
I hadn't heard from Knapp in a few months, except for maybe a birthday exchange on Facebook or something like that. Then I got the news of this tragic accident. As is often the case with death or unexpected misfortune, so many of us who'd been disconnected reconnected. The first person I reached out to was Mora. What was said won't be printed here, but I can tell you this: Knapp's dear friend is a strong dude who has helped a lot of us this week. I'm sure we'll be there for him, too.
There won't be teams wearing Greg's initials on their helmets and there won't be monuments built in Knapp's likeness around stadiums. There won't have to be. So many of us will carry his legacy and memories forward. We will speak well of him. There's actually no other way to speak of Knapper.