I fancy myself as looking pretty snappy in a hat. If I'm wrong, no one has actually had the fortitude to tell me. And I kindly ask that you, America, not be the first. But that is neither here nor there. The greater point is that I've been wearing hats for a long time and don't intend to stop anytime soon.
Yet it reminds me of a hat that was given to me as a gift in college. It was a floppy fisherman style hat, which has since gone out of style. However at the time, it was quite fetching -- and more importantly, it was comfortable. But in a fit of youthful indiscretion, I lost it and have spent the years since rueing my foolishness. For a while, I searched endlessly to find an adequate replacement. Alas, it was fruitless.
In fantasy football parlance, my hat is akin to a solid three-down running back. More specifically, it's much like a running back who is a frequent contributor on third down. A player who is trusted by his head coach and offensive coordinator when his team needs him most is one who most certainly can be trusted by a fantasy owners.
So with the season nearly upon us, Going Deep is taking a look at the guys who get the ball -- and get it done -- when the offense has its back against the wall.
What, exactly, does it take to be a good third-down running back? The first criterium is being a running back who is actually on the field on third down (duh!). As such, here are the 10 backs who saw the most snaps on third down in 2012 (with their 2012 teams listed).
1.Arian Foster, Houston Texans - 180
2.Ray Rice, Baltimore Ravens - 173
3.Ronnie Brown, San Diego Chargers - 169
4.Danny Woodhead, New England Patriots - 154
5.Chris Johnson, Tennessee Titans - 151
6.Frank Gore, San Francisco 49ers - 148
T-7.Matt Forte, Chicago Bears - 141
Bilal Powell, New York Jets
Steven Jackson, St. Louis Rams
10.Jacquizz Rodgers, Atlanta Falcons - 140
So ... about that list. Um, yeah. It's not a surprise to see Arian Foster or Ray Rice sitting there. But Ronnie Brown? Bilal Powell? That proabably wasn't what you were expecting to see. Which brings us to our next criteria -- being a player who gets the ball on third down. There's definitely value in being a decoy who can draw the attention of the defense. It's just not a fantasy value.
To help out, we'll break it down to the 10 running backs who had the most third-down carries last season.
1.Arian Foster, Houston Texans - 53
2.BenJarvus Green-Ellis, Cincinnati Bengals - 27
T-3.Ahmad Bradshaw, New York Giants - 24
Frank Gore, San Francisco 49ers
5.Steven Jackson, St. Louis Rams - 23
6.Stevan Ridley, New England Patriots - 22
7.Trent Richardson, Cleveland Browns - 20
8.Adrian Peterson, Minnesota Vikings - 19
T-9.Doug Martin, Tampa Bay Buccaneers - 18
DeMarco Murray, Dallas Cowboys
Now, that's a little more like it. Just one glitch. Even the best third-down backs aren't seeing a lot of touches over the course of a season. Just 18 rushes for the guys at the bottom of the list? That's not exactly a heaping helping. With that, we come to our next yardstick: being on a team that likes to run the ball on third downs.
Except that it only sorta works. Because sadly, in today's NFL there aren't a lot of teams that think run-first ...especially on third down.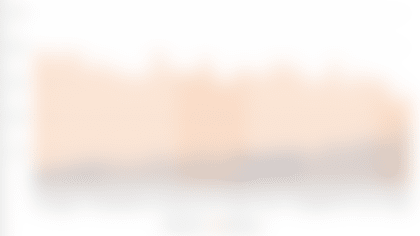 It's understandable. If you're facing a third down, chances are you have a few yards to pick up ... and only one play in which to do it. Why drive when you can fly? But on the other hand, it would seem to nearly eliminate the running back from the equation. Unless you're a running back that can catch the football. Which gives us...
T-1.Ray Rice, Baltimore Ravens - 19
Ronnie Brown, San Diego Chargers - 19
3.Arian Foster, Houston Texans - 18
T-4.Jacquizz Rodgers, Atlanta Falcons - 15
Toby Gerhart, Minnesota Vikings
Darren Sproles, New Orleans Saints
T-7.Darren McFadden, Oakland Raiders - 14 Reggie Bush, Miami Dolphins
Danny Ware, Tampa Bay Buccaneers
T-10.Matt Forte, Chicago Bears - 13
C.J. Spiller, Buffalo Bills
Danny Woodhead, New England Patriots
When it's all said and done, you start to get an idea that there could be some added value where maybe you didn't see it before. No one doubted that Foster or Rice were must-draft options. But this could be a reminder (or in some cases an eye-opener) about players like Rodgers and Woodhead.
If you're drafting this weekend, don't forget about the men who get it done on third down. Like owning a fresh lid, it's something you want to make sure you hold on to.