Quarterback Eli Manning waits for a fresh meal at the New York Giants facility. NFL players have to fuel their body with the right foods in order to perform at their best. (NFL/John Minchillo)
NFL Players are elite athletes who must fuel their bodies with the best and most effective foods. These finely tuned athletes require high-octane fuel and must make proper food choices to be at their best on game day. This article will look at considerations of a pregame, in-game, and postgame nutrition plan. Athletes can gain a competitive advantage by what they eat before, during and after a game. The saying, "You are what you eat," is a true statement.
I recently asked a few clients who I've had the honor to train what they chose to eat on game day and found similar answers. Tyler Eifert, the Cincinnati Bengals tight end who currently leads the NFL in touchdown catches, said, "My pregame meal consists of spaghetti, two petite filet mignon steaks, a baked potato and three blueberry pancakes." Luke Keuchly, Carolina Panthers linebacker and current NFC Defensive Player of the Week, said, "I like to go for some type of pasta for carbs, then chicken for protein. I finish my meal with lots of fresh fruit and drink a good amount of water for pre-hydration." New England Patriots free safety Devin McCourty also said, "I stick to spaghetti with red sauce and loads of broccoli as well as a banana on game day. I don't like feeling full on the field, so I eat just enough to satisfy my stomach."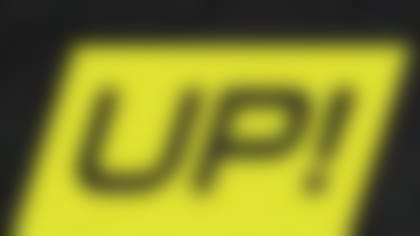 Looking to Up! your game? Take a look at NFL Up! to view workouts and tips from NFL players and trainers to ensure you're ready for game day.  More...
I have noticed during my time in the NFL that the players stay consistent with their game day nutrition plan. Bengals strength coach Chip Morton, who oversees his team's meals during the season, encourages his players to never try anything new on game day because you don't know how the body will respond. Try new foods, drinks or shakes on a practice day before trusting it on game day.
The goal of the pregame meal is to fuel the body for the entirety of a game. Emily Ludwig, RD, LD, who has worked with the Bengals the past two seasons as a sports nutrition expert, said, "One-half of the pregame meal should consist of nutrient-dense carbohydrates like breads and oatmeal. One-quarter of the meal should be a lean protein, like fish or beef. And the other quarter of the meal should consist of fruits and vegetables. The pre-game meal is typically eaten four hours before kickoff. An hour before kickoff, refined carbs can be consumed once again to top off the fuel source and provide quick energy without upsetting the stomach."
There are certain foods that you may want to avoid on game day. You can't out-perform a bad diet, so you will want to avoid foods that are high in fat and grease. If you fill up on french fries, hot dogs, cheeseburgers and pizza, don't expect to be at your best on game day.
The goal of halftime is to replenish electrolytes lost through sweat and to replenish carbohydrates so that you can come back with renewed energy to finish the second half. Football games can last longer than three hours, so energy levels should be replenished on the sidelines and in the locker room at halftime. Between possessions, Gatorade offers the simplest and most effective way to rehydrate on the sidelines. During halftime, simple carbohydrates are easy to digest; therefore, choose fruits such as oranges, which provide vitamins, and bananas for potassium. Gatorade energy bars and pretzels are also great options.
The goal of the postgame meal is recovery, so the athlete needs calories and needs to consume them very soon after playing. A protein shake with at least 20 grams of protein and 40 grams of carbs may be the easiest way to restore glycogen levels in the locker room. Another postgame option that is quick and easy is a peanut butter and jelly sandwich.
A full meal should follow shortly thereafter, within 1-2 hours following the game. This meal should consist of lean proteins, fruits, vegetables and nutrient-dense carbs. Maybe even a treat for desert if you feel you earned it!
To be your best, you must eat your best! Fuel your body, fuel your game!
- Clif Marshall is the Performance Director at Ignition Athletics Performance Group. He also serves as a consultant to the Cincinnati Bengals Strength Staff. Since launching an NFL training business at Ignition in 2008, Marshall has trained hundreds of NFL athletes on all 32 rosters, including league MVPs and top-10 draft picks. Ignition has trained a number of players who hold all-time NFL Combine records.
*Looking to get fit? Check out NFL Up! for workouts and tips and the NFL Up! Instagram feed for quick images and videos. *