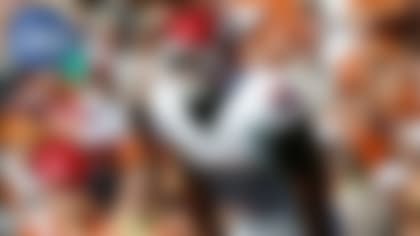 Editor's note: NFL Media analyst and former NFL scout Daniel Jeremiah takes a "first look" at college football's top players for 2016. This is the 18th in a series of scouting reports that will run throughout the offseason.
It's well-documented that this is one of the best crops of college running backs we've seen in quite some time. Dalvin Cook, Leonard Fournette and Christian McCaffrey are worthy of the preseason praise, but there are several other quality players at the position. One such player is Oklahoma's Samaje Perine. He's posted monster numbers for the Sooners and helped lead them to the College Football Playoff last season. I've had a chance to study three of his games. Here's my scouting report.
Samaje Perine, junior RB, Oklahoma
Height, weight: 5-foot-10, 235 pounds (school measurements)
2015 statistics: 226 carries for 1,349 yards (6.0 average), 16 TDs. Fifteen catches for 107 yards (7.1 average), TD.
Game tape watched: Texas Tech (Oct. 24, 2015), TCU (Nov. 21, 2015), Oklahoma State (Nov. 28, 2015)
What I liked: Perine is an aggressive, pounding runner who is very difficult to tackle one on one. He doesn't dance and waste time behind the line of scrimmage. He is decisive and excels at running through contact. He lowers his shoulder and bounces off of defenders. He also picks up his knees and avoids getting tripped up when he runs through clutter. He has exceptional balance (see long TD vs. TCU). He doesn't have "wow" speed, but he piles up a lot of long runs. He isn't used very often in pass protection, but he shows a willingness to stick his face in the fan when he's used as a lead blocker. He has made a couple de-cleating blocks on the perimeter. He caught just 15 passes last season but he has soft, reliable hands.
Where he needs to improve: He isn't a nifty, elusive runner. He wins a lot of one-on-one battles in space, but power is usually his method of choice. He doesn't make many defenders miss. He has decent play speed but he is a monotone runner, which means he doesn't show much acceleration or explosion. I love his competitiveness and believe he can develop into a solid pass protector, but he doesn't have much experience in that area. Hopefully, he'll be used more in the passing game this fall.
Biggest takeaway: Perine is a pure power runner and he provides a physical identity for the Oklahoma offense. I see some similarities to Michael Turner when he was coming out of college. They have similar builds and rarely go down on first contact. They both have exceptional balance and excel in short-yardage situations. While studying Perine, I couldn't help but notice No. 25 for Oklahoma, Joe Mixon. He is a dynamic runner with stop/start quickness and excellent instincts. Mix in quarterback Baker Mayfield, and it's easy to see why Oklahoma is getting so much preseason love. They are loaded in the backfield.
I can't wait to see him play ... Ohio State on Sept. 17. This is my favorite non-conference matchup on the college schedule. Ohio State lost a lot of talent from last year's squad, but it is still loaded with NFL-caliber players. I'm looking forward to watching Perine and Ohio State LB Raekwon McMillan meet each other in the hole. That promises to be a very physical encounter.