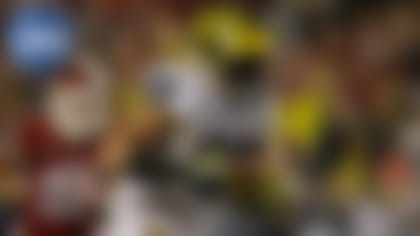 Editor's note: NFL Media analyst and former NFL scout Daniel Jeremiah takes a "first look" at college football's top players for 2016. This is the 20th and final installment in a series of scouting reports that have run throughout the offseason.
Jake Butt, senior TE, Michigan
Height, weight: 6-foot-6, 250 pounds (school measurements)
2015 statistics: 51 catches for 654 yards (12.8 average), 3 touchdowns
Game tape watched: Utah (Sept. 3, 2015), Indiana (Nov. 14, 2015), Penn State (Nov. 21, 2015)
What I liked: Butt is an instinctive football player. Playing tight end is more about feel, awareness and subtlety than pure speed and athleticism. He's a skilled technician with excellent spatial awareness. He knows how to create separation at the top of his routes. He uses his body to lean on defenders and he snaps out of his break without wasting steps. He is deployed in-line, in the slot as well as split out wide. He routinely beats safeties and even cornerbacks locked in man coverage. He beat an Indiana cornerback up top on a stutter-go route. That's not something you see very often from a big tight end. He has outstanding hands. He attacks the ball in the air (see TD vs. Utah) and wins a lot of 50-50 balls. After the catch, he lacks elite speed but he's nifty to make defenders miss and he has the power to run through tackles. He doesn't go down easily.
Where he needs to improve: He's still a work in progress as an in-line blocker. He plays too high and he gets tossed around in the running game. He's better on the back side of plays where he can mirror/cut off and get in the way. He's on the ground too often. Pass protection is another area where he needs work. He does a nice job of staying square but he's too flimsy and will get torqued and tossed by defensive ends. Hopefully, another year in Harbaugh's system will lead to improvement in these two areas.
Biggest takeaway: Butt is a natural pass-catcher that understands the nuances of route running and creating space. He catches everything and has the potential to be a dominant red-zone weapon. He reminds me of Tyler Eifert coming out of Notre Dame. Both have outstanding size, ball skills and instincts. However, Eifert was more efficient and reliable in the running game. I believe Butt has the tools to develop in this area and I think he has a chance to be a first-round pick in next year's NFL draft.
I can't wait to see him play ... Ohio State on Nov. 26. This was an easy choice. The Wolverines had a tremendous turnaround season last fall but they were smashed by Ohio State at the end of the regular season. Butt will spend some time matched up with a very talented group of linebackers, including Raekwon McMillon. Butt caught 5 passes for 54 yards in last year's contest but he was held out of the end zone. I'm eager to see if he can be more productive in this year's matchup.