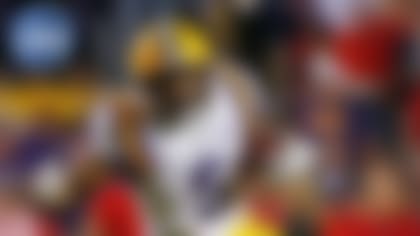 Editor's note: NFL.com analyst and former NFL scout Daniel Jeremiah takes a "first look" at college football's top players for 2017. This is the sixth in a series of scouting reports that will run throughout the offseason.
While studying Leonard Fournette for the 2017 NFL Draft, it was easy to notice another LSU running back torching opposing defenses. In fact, while Fournette would end up being the fourth overall pick in the spring, he didn't lead the Tigers in rushing last fall. LSU's leading rusher was super sophomore Derrius Guice. While I noticed the impressive flashes from him on tape in the spring, I was really looking forward to digging in and studying Guice's game this summer. He didn't disappoint. Here's my scouting report.
Click through tabs above to see other scouting reports.
Derrius Guice, junior running back, LSU
Height, weight: 5-foot-11, 212 pounds (school measurements)
2016 statistics: 183 carries for 1,387 yards (7.6 average), 15 TDs; 9 catches for 106 yards (11.8 average), TD; 11 kickoff returns for 223 yards (20.3 average).
Game tape watched: Arkansas (Nov. 12 2016), Texas A&M (Nov. 24, 2016), Louisville (Dec. 31, 2016)
What I liked: Let's start with his production -- despite having 5 or fewer carries in 4 games, Guice still found a way to lead the SEC in rushing yards. He also racked up 15 rushing touchdowns. I love his style as a runner. He is very decisive and reaches top speed in a hurry. He has the wiggle to make defenders miss in tight quarters and he has incredible contact balance, which allows him to consistently bounce off of tacklers. He has homerun speed once he gets into the open field (see 92-yard score vs. Arkansas).
He isn't used often in the passing game, but he does have capable hands and the potential to be more of a weapon in that department. I like the fact that he hasn't been overused by LSU. I'm sure his workload will increase without Fournette around this fall, but he will eventually enter the NFL with plenty of tread left on his tires.
Where he needs to improve: I mentioned Guice wasn't much of a factor as a receiver out of the backfield (he caught 9 passes in 2016). Hopefully, we'll see him more involved in that area in 2017 so we can get a fair evaluation of his route-running and pass-catching prowess. He's still a work in progress in pass protection. Guice has a high batting average when he goes low and cuts defenders, but he struggles when he stays on his feet. He gets too narrow and defenders easily displace him. I'd like to see him bend his knees, sink his weight and show some anchor vs. blitzing linebackers.
Biggest takeaway: Penn State's Saquon Barkley is going to enter the 2017 CFB season as the top running back in the country, but Guice belongs in his company. He's an explosive runner with excellent balance and a tenacious style. He isn't quite as powerful as his former teammate Fournette, but he has a little more wiggle and elusiveness. I see a little bit of LaDainian Tomlinson in his running style, but he really reminds me of a young Frank Gore. He's a tough guy to get on the ground.
I can't wait to see him play ... BYU in the opener on Sept. 2. LSU lost a very physical game to Wisconsin in the opener last season. While BYU isn't quite as talented as that Wisconsin team, it's a very physical squad and they are capable of knocking off the Tigers. Guice could make a strong statement by posting big numbers against a quality opponent in the first week of the season.