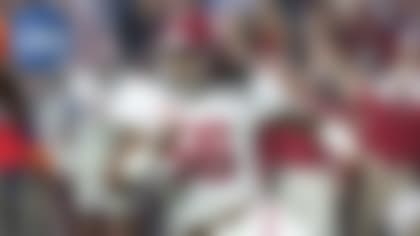 Editor's note: NFL Media analyst and former NFL scout Daniel Jeremiah takes a "first look" at college football's top players for 2016. This is the eighth in a series of scouting reports that will run throughout the offseason.
My first exposure to Tim Williams came during last season's Cotton Bowl, when Alabama destroyed Michigan State. Williams was a force in that contest, harassing Connor Cook throughout the game. He had one of the best spin moves I've ever seen in that game. After a hard charge upfield, he spun inside and flung the Michigan State right tackle violently to the ground. As far as first impressions go, this was a pretty good one. I've since had the opportunity to study him on tape. Here are my thoughts on Williams.
Tim Williams, senior OLB, Alabama
Height, weight: 6-foot-4, 237 pounds (school measurements)
2015 statistics: 19 tackles (13 solo), including 12.5 for loss (10.5 sacks). One pass breakup and 4 QB hurries.
Game tape watched: Texas A&M (Oct. 17, 2015), Mississippi State (Nov. 14, 2015), Clemson (Jan. 11, 2016)
What I liked: Williams has all of the tools to be a top-tier pass rusher. He is extremely explosive. His first-step quickness is outstanding and he has very violent hands. He lacks polish and technique but he wins a lot of one-on-one battles because of his pure athleticism and raw power. His favorite move is a stutter/bull rush but he also has a nifty spin move that he uses late in the down after his first charge has been stopped. He is very effective when he's used as a looper, working together with the defensive tackle to get after the QB. His snaps are limited and that allows him to play with maximum effort every play.
Where he needs to improve: He needs to improve as a run defender in order to become an every-down player. He's played very few snaps on run downs, which makes this part of the evaluation nearly impossible. He flashes the ability to stack and hold the point of attack but he will also get caught running upfield and take himself out of position. He also needs more reps as a dropper from the outside linebacker spot. That will be required from him at the next level.
Biggest takeaway: The first name that popped into my mind while watching Williams -- Ziggy Ansah. Both players were very raw on college tape but it's easy to project their success at the next level. They are both ultra-twitched-up and play very hard. They don't have the same frame (Ansah is taller/longer), but their playing styles are very comparable. Ansah has emerged as one of the top edge rushers in the NFL and I believe Williams has double-digit sack potential as well.
I can't wait to see him play ... USC on Sept. 3. Williams should be used as a full-time player this fall and his ability to play the run will be challenged by the Trojans. USC returns a veteran offensive line and two very impressive running backs. Sophomore Ronald Jones is capable of reeling off long runs if he's allowed to get to the perimeter of the defense. It will be up to Williams to set the edge and force Jones to take the ball inside the tackle box.