Our Digital Features Editor, Amar Shah, has never played fantasy football until this year. He'll chronicle his adventures here.
I know it takes a level of moxie to put myself in the middle of a picture with Jerry Rice and Warren Sapp like the one at the top of this column, but guess what? I've won three in a row. I'm feeling full of myself.
It came down to eight AA batteries. Jerry Rice, the Greatest of All-Time, visited NFL Network on Tuesday to promote the Pro Bowl, talk fantasy and go through the rinse cycle of the NFL Network "car wash." He was scheduled to appear on NFL Fantasy Live, Eisen and Total Access amongst other segments. Our Digital Features team also had a producer following him around for an NFL Fan Pass segment. However, talking to me was not Jerry's agenda. But asking the G.O.A.T. a few questions for my First-Timer column wasn't something I could miss the opportunity to follow through on. A few weeks ago, when the cast of "The League" was in the same theater as me, I got cold feet and didn't even ask them a thing about fantasy. I bring shame to the journalist establishment.
Alas, on Tuesday I found myself in the same position. I accompanied our producer Dezi to the Green Room where Jerry was sitting. Instead of asking him then and there, the sudden realization hit me that I was with Jerry Rice. A little hero worship and awe seeped in where objectivity and professionalism should have remained. I didn't say anything. When I walked back to the NFL.com building I berated myself internally for being such a coward. But when I got back to my desk I got an email from Dezi asking to bring eight AA batteries for the shoot. Redemption. I found the batteries and went back to the Green Room. There I asked Stacey Garcia, our talent producer, if I can ask him a few questions. She told me to come back in ten minutes. I did so.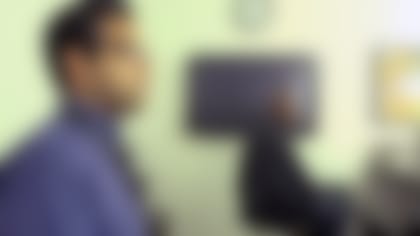 I admit this was the most awkward interview I'd ever conducted, chatting with the Hall of Famer who defined his position, getting blotted and touched up in a chair. But Jerry Rice is a total professional and gave me some interesting answers about fantasy.
It was indeed Hall of Fame week. I also caught up with fellow Floridian, Warren Sapp. He's been playing fantasy for years. He gave me an insight into a perspective of a type of fantasy player I'd never known: The NFL player himself.
I asked him if I could put him on video. He said no, but said I could record the conversation. Smart man.
I need to find who his general manager is. I have a feeling I know the answer.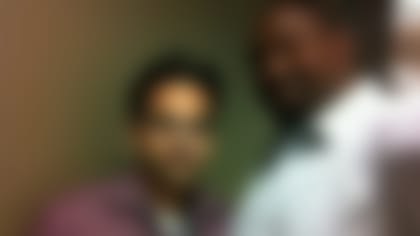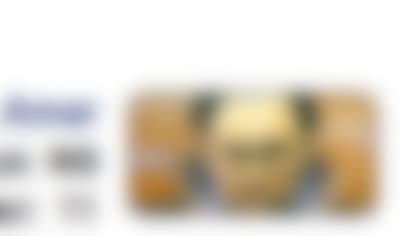 This was a hard fought victory that came down to the wire and dependence on a player who has been a disappointment to many, Trent Richardson. His 7.3 points helped me escape from being beat by someone who forgot to replace their defense and and wide receiver who were on byes. I traded Mike Wallace for Trent Richardson. I'm not very proud of that. I won't start him again this season.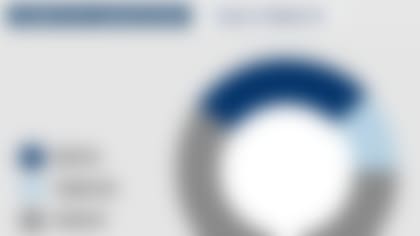 After nine weeks, it's apparent that my draft was horrible. Of my first three picks, Randall Cobb and Doug Martin are injured and the other is Maurice Jones-Drew. My original quarterback, Cam Newton, was traded. What I have on my roster now has been acquired via trade or waiver wire. This is why you play the game.
My opponent this week is The Pylon Knockers owned and operated by Senior Editor Justin Hathaway. He actually picked before me in our draft and stole the one player I still wanted on my roster: Tavon Austin. Granted, Austin hasn't produced, but Hathaway's continued denial of my trade requests has me on a quest to beat him. Plus, no one makes fun of the the Gators as much as he does. It's on.
Dream on. I'm going to be back at .500. Mark my words, I'll be the G.O.A.T. of our fantasy league soon enough.
Amar Shah is the Digital Features Editor at NFL.com. He writes weekly about his first-time fantasy adventures throughout the season. You can reach him at @amarshahism. If you have trade or marital advice, let him know.
Previous articles in the Series: