Our Digital Features Editor, Amar Shah, has never played fantasy football until this year. He'll chronicle his adventures here.
"In a real dark night of the soul it is always three o'clock in the morning." - F. Scott Fitzgerald
Sunday night I couldn't sleep. It wasn't because my Florida Gators lost to Georgia Southern. And it wasn't because earlier that day both my mom and my mother-in-law talked to one other and decided to ambush my wife and I with their annual "where's our future grandchild?/your biological clock is ticking" conversation. No, the reason I kept tossing and turning was a fantasy football-related insomnia.
After I thought my wife went to sleep, I hid under the covers with my laptop and kept trying to find various scenarios where Anquan Boldin would get me 13 points. Lucky enough, I was in a PPR league. But Boldin also was the poster boy of fantasy frustration. One week he dominates and the other week, he catches one pass. Jets-like.
As I was breaking down potential playoff scenarios just in case I lost, I was suddenly blinded by a flash. I was caught again in the act by my wife even after I agreed to no fantasy football-related activities in the bedroom. After she took the picture she tossed me the phone.
"Post that photo in your blog. That's your punishment"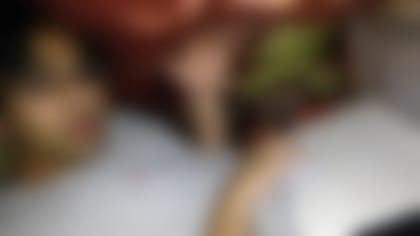 Anquan Boldin saved my season. His 94 receiving yards, five catches and two touchdowns rewarded me 26.4 points. I won my matchup this week. I was now all alone with the No. 6 seed in our league with just one game remaining.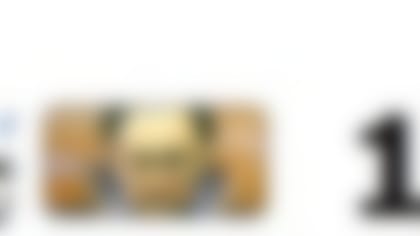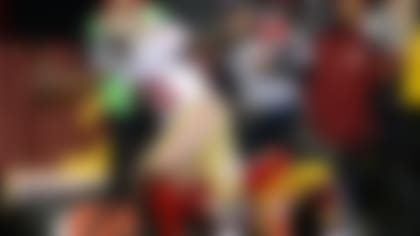 Who doesn't like a pat on the back? A little approval on a job well done. I, of course, am prone to enjoying compliments, especially when I fish for them. Hence, my asking fantasy editor Marcas Grant for his opinion on my progression this season. Yet, it didn't go as planned.
Winning is the Best Revenge
Team Alison Brie has been on a hotter winning streak than I have been on. They've won seven in a row. Thus, the inevitable irresistible force paradox. Something's got to give this week. And in order to give myself the edge I went to the video ambush.
Hulk Hogan would be proud.
Hanzus is too intimidated to talk trash back to me.
Beautiful irony. The Percy Harvin story comes full circle. The team that traded him to me will now feel his wrath. Cue the [villanous revenge laugter](http://www.youtube.com/watch?v=8MTJWTp9zsY
For the last week of the fantasy regular season I sought the guidance of Adam Rank, who broke out the fantasy binder and assessed my chances this week.
I also sought advice from fantasy therapist Dr. Philliot.
My wife and I went to our friend Sarah's house for Thanksgiving. The middle of the Dallas Cowboys and Oakland Raiders game was on. My wife passive-aggressively asked me if my team was playing. It was my cue to switch to the Macy's Thanksgiving Day Parade. She told me none of the guests were football fans.
Next Week: Will Team Amarica make the playoffs?
Amar Shah is the Digital Features Editor at NFL.com. He writes weekly about his first-time fantasy adventures throughout the season. You can reach him at @amarshahism. If you have trade or marital advice, let him know.
Previous articles in the Series: