Our Digital Features Editor, Amar Shah, has never played fantasy football until this year. He'll chronicle his adventures here.
I was tired. The traffic on the 405 was slower than it's usual three-toed sloth-like pace, and so my commute from NFL Network to home stretched past it's regular 45 minute drive to an hour and 15 minute slog. Thus, when I got to my place I was a bit annoyed when my wife reminded me that this was the night we would begin watching "Mad Men." I committed to watching a few days before, but now, I exaggerated my fatigue saying I needed to hit the sack. I actually wanted to do something else.
An hour later, I was under the covers, checking the waiver wire on my cell phone. Suddenly, someone snatched away the covers and my warm hiding place was discovered. My wife gritted her teeth.
"What are you doing? You said you were sleeping?"
"I was just checking the wire. Have to pick up a back-up quarterback."
I felt as shameful as Jim from American Pie.
"You should put yourself on waivers," she told me. "But unfortuntately for me, no one would claim you."
She left the room. I think she watched the entire third season that night. And I still didn't have a back-up quarterback.
Team Amarica's Gonna Knock You Out
"Don't call it a comeback/
Rockin my peers and puttin suckas in fear/"
Just like Mr. Smith proclaimed, Team Amarica's making the competition pay the price. I'm back at .500. Winner of four in a row.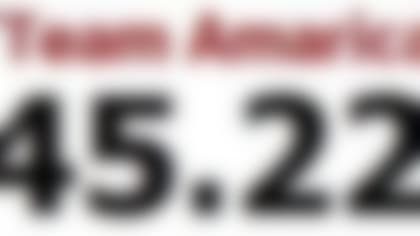 This was a satisfying win. The Pylon Knockers, owned by senior editor, Justin Hathaway, had refused to trade me Tavon Austin no matter how many times I asked. So, it was nice to see him leave Austin on the bench while the St. Louis Rams wide receiver exploded for over 40 points.
I'll admit I was annoying and asking to be kicked.
I was also lucky. And if it wasn't for this bit of advice, things could be the other way around.
Scary Mustaches and Great Expectations
Now, that I'm back from the fantasy underworld and back in the playoff chase, I asked Dave Dameshek for his assessment. WARNING: His mustache will scare you.
I'm even more scared of mustaches.
The Twitter-sphere also opined.
Nope, I have other utensils, including a spork.
Optimism. That's what I'm looking for. Good luck, too!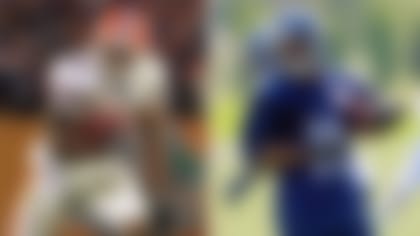 One of the worst faults, I've carried with me this first year in fantasy is loyalty. I was told to sever favoritism and partiality for players and teams and operate on objective analysis and cold calculation. I haven't done that. Perhaps, that's why I still have Caleb Sturgis as my kicker even though he's struggled as of late. It's probably the reason I also took my biggest risk by trading for Percy Harvin. They are both Florida Gators like me.
Luckily, I was able to talk to someone who shared my collegiate background and wing span: "The Freak," Jevon Kearse. Kearse, the three-time Pro Bowl defensive end and National Champion, was working as an analyst this week and we chatted about this predicament and what I should do with Harvin.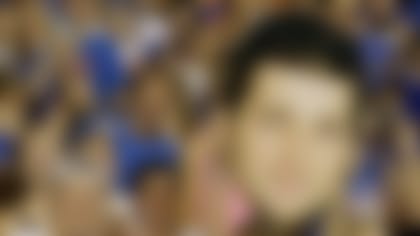 I face fantasy editor Marcas Grant this week. He's had a rough go round this season at 2-8. I decided to have the proverbial water cooler chat with him. Impromptu, of course.
I appreciate the tolerance he demonstrates when a cell phone is put in his face. Most people aren't that patient. But Team Amarica will triumph this week. Once again.
My wife has banned all fantasy football discussions from our bedroom. Let's just say the only fantasy I'll have fulfilled this week is going 6-5.
Next Week: I interview a legend and will I make the playoff leap?
Amar Shah is the Digital Features Editor at NFL.com. He writes weekly about his first-time fantasy adventures throughout the season. You can reach him at @amarshahism. If you have trade or marital advice, let him know.
Previous articles in the Series: