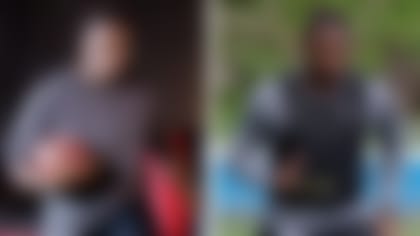 First-round tight end prospect Eric Ebron took a few minutes of his time to give NFL Up! the scoop on his workout regimen, diet and what NFL player he models his game after.
Q: HOW HAS YOUR WORKOUT REGIMEN CHANGED FROM THE END OF COLLEGE TO NOW?
A: In college you work on basically building your body for the season. And what I'm focusing on now for the NFL is working on segments. At first, we worked on endurance. Just building for the combine. You're still working on it for the pro day. Basically, I'm not changing up weights as I did for combine. I'm working more now on route running and physical work.
Q: HOW IS TRAINING FOR A TIGHT END DIFFERENT THAN OTHER SKILL POSITIONS?
A: You have to train more for like three positions rather than one. You have to train for the mental work of a quarterback. The physical work of a receiver. The body work of an offensive lineman. Training for a tight end is a little bit different than training for any other position.
Q: THE MOST IMPORTANT TRAIT OF A TIGHT END IS...?
A: Now a days, it's how versatile is he. The new day and age perception of tight ends is their versatiltiy. Are they able to block, run and catch?
Q: IS THERE ONE TIGHT END IN THE NFL YOU'VE MODELED YOUR GAME AFTER?
Q: WHAT'S YOUR NUTRITION LIKE ON A DAILY BASIS?
A: Water. Nothing else (laughs.) You have to drink water to maintain your hydration. Fruits. Vegetables. Just eat things that are not fried, but baked instead. You just want to eat real healthy.
A: Definitely. Cake. Honey buns.
Q: ARE YOU WHERE YOU WANT TO BE FITNESS WISE?
A: No, I think I can put on more weight and still stay as fast as I want to. I just see myself taking steps forward and progressing to my peak.
Want to learn more NFL player workouts and offseason training tips? Visit NFL Up! to discover the workout secrets of the NFL's best and get fit like your favorite player!