» Players can no longer use the crown of their helmet to initiate contact after the league's owners voted 31-1 to pass the new safety rule at the NFL Annual Meeting in Phoenix on Wednesday. Reaction was widespread and passionate: Some vigorously defended the rule as a step forward, while others voiced disappointment in what they say is an unfair restriction on ball carriers and an impossible burden for officials. Check out NFLEvolution.com for the most in-depth coverage of all the new NFL rules passed this week.
Instant Debate: Crown-of-helmet ban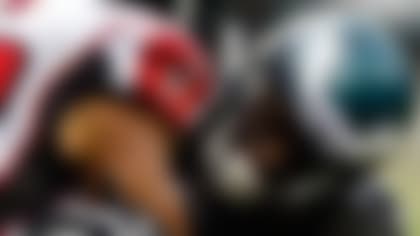 The NFL passed a rule that bans ball carriers from initiating contact with the crown of the helmet. Is this a positive change? More ...
Here's what else is on tap for Thursday:
» Get the latest news on Ed Reed's jump from the Baltimore Ravens to the Houston Texans, and all the latest reaction to Wednesday's big rules changes, on "NFL AM" beginning at 6 a.m. ET on NFL Network. Former Texans general manager Charley Casserly and the Houston Chronicle's Tania Ganguli will give their thoughts on the Reed deal. Also, UCLA running back Johnathan Franklin joins us in studio with his feelings about next month's 2013 NFL Draft.
» NFL Network draft expert Mike Mayock reports from Georgia's pro day, where first-round talents Jarvis Jones and Alec Ogletree are the lead attractions, on "NFL Total Access" at 7 p.m. ET on NFL Network. And check out NFL.com's nationwide pro day coverage here.
» Jeff Darlington takes a look at Florida's monster defensive tackle Sharrif Floyd.
» Bucky Brooks writes about another quarterback prospect who's dividing NFL scouts: N.C. State's Mike Glennon.