Get a jump on the day's football talk with a jam-packed edition of "NFL AM" beginning at 6 a.m. ET on NFL Network. Today, Seattle Seahawks safety Earl Thomas visits the studio to discuss his loquacious teammates in the secondary and his team's lofty ambitions for 2013. Plus, NFL head of security Jeff Miller details the league's new policy on what fans can bring to games, Dr. Neel Anand, director of spine trauma at Cedars-Sinai Spine Center in Los Angeles, explains New England Patriots tight end Rob Gronkowski's back surgery later today, Green Bay Packers linebacker A.J. Hawk on the first day of "NFL Broadcast Boot Camp," former Minnesota Vikings linebacker Chad Greenway, and much more.
Gleason: My life is awesome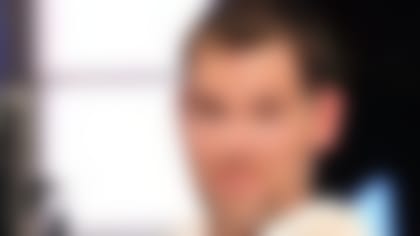 Steve Gleason discussed if he has any regrets playing football in a guest column on SI.com. **More ...**
Here's what else is on tap for Tuesday:
» The Atlanta Falcons, Tennessee Titans and Minnesota Vikings are the final three NFL teams to hold their minicamps this year. Tune in to "NFL Total Access" at 7 p.m. ET on NFL Network for reports from those camps, plus all the latest news from around the league.
» Albert Breer scours the AFC South to determine who's really in charge.
» NFL Evolution reports that for the first time, a state's football coaches association has endorsed Heads Up Football for its members, who are high school coaches.
» Watch former NFL running-back-turned thespian Eddie George take center stage as Julius Caesar, and take a look at how the sport of football and the sport of kings have crossed paths over the years, in a one-hour block of "NFL Films Presents" at 8 p.m. ET on NFL Network.
» NFL.com fantasy expert Adam Rank has created a bracket of 34 films in the running to be named The Greatest Football Movie Ever. See the contenders here, and stay tuned for the tournament to find out which film comes out on top.