It's typically a waste of time to assume a certain player won't fit in a new coordinator's scheme based solely on the composition of that coordinator's prior teams.
But is that the case in Atlanta?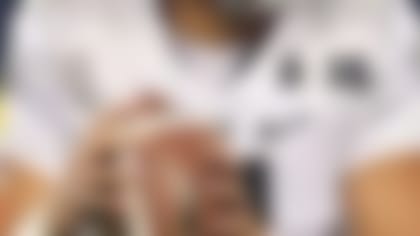 In advance of the draft, Marcus Mariota and others will look to showcase their skills at the combine (Feb. 17-23), only on NFL Network. SCHEDULE
New offensive coordinator Kyle Shanahan talked about his cadre of running backs Tuesday and was sure to compliment 31-year-old Steven Jackson along with everyone else.
"I've been here a week ... the main things we're doing right now is looking at our own personnel," Shanahan said, via ESPN.com. "I don't have a set opinion right now because I haven't watched enough tape, but Steven's a guy I've been a huge fan of over his career.
"Devonta (Freeman) was someone I loved coming out of college last year. And then the guy from Oregon State (Jacquizz Rodgers), I loved him coming out of college. So they're guys I remember from their college days, hard. I know Steven because he's played for a long time.
"But I haven't evaluated any of those backs since college or just Steven over the years. So, they're guys I'm excited and really looking forward to seeing them and getting them here in (organized team activities) and seeing what we can do."
He was also quick to downplay Jackson's style as a deterrent.
"People asking me that all the time ... I like a good running back," Shanahan said. "There's no absolute. I've had big guys. I've had smaller guys. I'll take any type of guy. I think Adrian Peterson, Marshawn Lynch are pretty good backs that are pretty big. That doesn't mean I don't want LeSean McCoy. So, I think any type of back can succeed in this system."
That being said, the team could save more than $3 million by parting ways with the 11-year veteran.
No matter how versatile Shanahan is, would Atlanta spend that kind of money on a running back who doesn't stand out as an ideal candidate for his zone-blocking scheme?
Sure, Lynch and Peterson would be exceptions to that rule. But Jackson isn't Lynch or Peterson anymore.
If Jackson is interested, though, there should be a robust market for his services. The power-running game never truly goes out of style, and the ability to average more than 4.0 yards per carry over a lengthy career will be appreciated somewhere.