Never heard of a leg injury game in a playoff game (Seahawks-Redskins, to be exact) causing such a media/Twitter/Facebook/eHarmony/water-cooler firestorm ...
Analysts' picks: Divisional round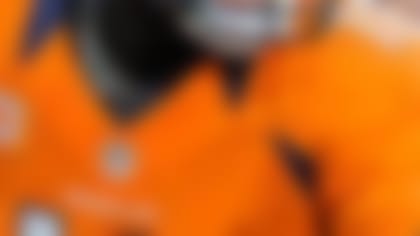 Calm down, everybody. Team doctors agreed Steven Hauschka has a calf injury, and Seattle put the kicker on injured reserve. The team signed Ryan Longwell, and the playoffs proceed.
OK, the Robert Griffin III saga was a big deal. But the reality is that the Washington Redskins are gone from the mix, and the suddenly-hurting-but-hot Seattle Seahawks move on. Their kicker is gone, as well as their best pass rusher, yet the 12th Man remains confident as ever that this squad can deliver a road win in Atlanta. The Seahawks have been playing solid football, and overcame uncharacteristic mistakes -- like Marshawn Lynch going Yield Mode, fumbling at the goal line -- to log a sixth straight win. I like that group again this weekend.
As for the rest of the games, you might notice another upset below. Call it a mild upset. And how about the Denver Broncos? Well, another game in which a win won't necessarily prove that they truly are the best the NFL has to offer. That said, a win automatically brings the AFC Championship Game to Sports Authority Field at Mile High (if that's still the sponsor by then). Opposing teams are 1-4 historically when playing a mile up in Denver in the AFC Championship.
But we might be getting ahead of ourselves; maybe the Baltimore Ravens will shock the football-watching world. Per the usual, would love your thoughts on that potentially happening and anything else that tickles you pink in the scribblings below. The dropbox is @Harrison_NFL.
Elliot Harrison went 3-1 on Wild Card Weekend, giving him a 144-67-1 record since taking over this space in Week 4. How will he fare in the divisional round? His picks are below, with home teams listed second:
Can the Baltimore Ravens stop the run? That's the question in my head for this divisional-round opener. Teams have gotten a tremendous amount of movement on Baltimore's front seven -- with or without Ray Lewis -- so you should expect Peyton Manning to audible to more running plays than usual. (Unless, of course, the team just calls more runs in the huddle than usual because of the Ravens' weakness in that area.) The Denver Broncos have averaged more than 148 rushing yards per game in their last four outings, with six touchdowns on the ground.
The other concern for the underdog Ravens is their dependence on the home run. Joe Flacco hit a few long balls on Wild Card Weekend, but the Indianapolis Colts certainly don't have a corner of Champ Bailey's ilk, or a comparable secondary overall to Denver's group. The Broncos' defense has given up the fifth-fewest passing plays of 20-plus yards. Now, it's important to note that when Ray Rice is inside the white lines Sunday, he will be the best player on the field. The Ravens should try to get the ball in his hands 25 times, with a sprinkling of Bernard Pierce. Limit Peyton's possessions = best chance to win for Baltimore. #BALvsDEN
So did Justin Smith, who hasn't seen action in a month. If Smith and his ailing triceps can't get a push, or occupy two blockers, can Aldon Smith wreak havoc on his own? This Packers offensive line is what it is -- mediocre -- and Aaron Rodgers still holds the ball too long. But right now, I trust Rodgers more than Smith's triceps, which is big for a 3-4 defensive end. Green Bay must hope it can get something out of DuJuan Harris, or the 49ers will have a much easier time affecting Rodgers' timing with Greg Jennings, Randall Cobb and others. #GBvsSF
The Houston Texans' secondary has to play it close to the vest, which is to say defensive coordinator Wade Phillips has to play it close to the vest. The last two times Bill Belichick has faced a Phillips defense, it hasn't been pretty:
Umm ... Those numbers kinda suck. I love me some Wade, but he just can't leave his secondary in man coverage all day while he tries to get his blitzing linebackers in mismatches. The age-old equation with Phillips has always been easy, and effective: 'Backers on backs equals sacks. The problem is, while Houston works to get those matchups, some dude on the back end of the defense will get exposed.
Now, the Texans can plan on running the football to maintain possession and burn clock. But if they can't stop all of Brady's hot reads to Wes Welker, or check-down-and-sprint-your-tail-offs to Danny Woodhead, they're done. I expect Houston to be aggressive offensively, perhaps airing it out on the first two drives, forcing the New England Patriots to play the whole field defensively EARLY ... Thennnnnnnn grinding it on the ground with Arian Foster. Will that be enough? You saw my score prediction. #HOUvsNE