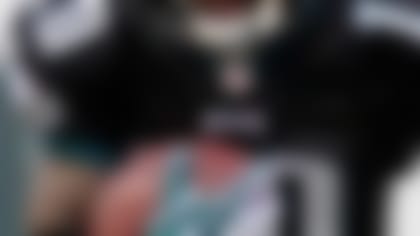 Stay up-to-date with all the latest news and rumors behind DeSean Jackson's potential destinations with our DJax tracker. **More...**
The Redskins and other current potential suitors have surely done their background checks on Jackson, as they did before he was drafted in 2008 and as they were surely doing last week when Jackson was still reportedly on the trading block. Concerns about Jackson's work ethic and commitment are nothing new -- he has always been a potentially high-risk/potentially high-reward player, and his pre-contract-extensionmopefest in 2011 only raised more alarms about what mattered to him.
It didn't stop the former Eagles braintrust -- read: Andy Reid -- from giving Jackson a lucrative contract extension in 2012. And it didn't stop Jackson from having a career season last year, his first in a Chip Kelly offense that seemed perfectly suited to the talents of a receiver whose speed routinely blows the tops off defenses. The Redskins might not have enough money to ultimately lure Jackson, assuming others are seriously involved. But the prospect of seeing Jackson on the same field as a healthy Robert Griffin III -- who would be able to extend plays while Jackson flies past defenders -- surely gives shivers to the NFC executives who joked with New York Jets owner Woody Johnson last week to please get Jackson, in whom Johnson had expressed interest before the player was released, out of the conference.
What is most chilling about Jackson's saga, though, is the undercurrent about what prompted the Eagles to part ways with him in the first place. Maybe the story from NJ.com about Jackson's apparent ties to reputed gang members -- which preceded news of his release by little more than a half-hour -- will turn out to be more than the six-degrees-of-separation connecting-of-the-dots-with-some-squiggly-lines that it seems to be at the moment. Maybe we'll find out that the Eagles, in the post-Aaron Hernandez NFL, were afraid that more was to come. But for now, with the Eagles again declining to comment on Monday, it is difficult not to view this at least in part as the team using a potential bombshell story as very convenient cover for the decision -- questionable and unpopular at best, ill-considered and self-destructive at worst -- to let Jackson walk. There is no criminal activity from Jackson -- who strongly denied being in a gang via a statement issued Friday -- that we know of. Instead, there were reports of the more rudimentary aggravations that bedevil coaches: tardiness to meetings, lax practice habits, big-picture worries about what kind of influence a high-maintenance star might have on younger players and locker-room culture.
"Culture" is a buzzword in locker rooms and clubhouses across professional sports, and new coaches and managers work assiduously to establish the kind of culture they want. That effort takes all kinds of forms, some serious, some silly. One of the first things Herm Edwards did when he became the Kansas City Chiefs' head coach was to have the red arrowhead on the side of the team's practice center repainted, to rid it of the raggedy weather-beaten look that resulted from barely being touched up for 15 years. It was a signal that the Chiefs would be paying attention to details. Scott Linehan had the pictures of star players updated when he took over the St. Louis Rams, a message that nothing in the team's past was going to help them now.
Kelly, perhaps frustrated by Jackson's demeanor and cushioned by the knowledge that an extravagantly talented class of receivers awaits in the draft, decided something more drastic was necessary. That is the prerogative of the coach, particularly when said coach won the division in his rookie season and is clearly in a position to wield a considerable amount of clout. It might seem odd to think that a team that was willing to invest the time and effort in helping Michael Vick reintegrate into the NFL could not figure out a way to get Jackson to toe the locker-room line that Kelly wanted. Maybe Kelly decided it simply wasn't worth the trouble, especially with so many younger, cheaper and presumably more malleable receivers about to enter the pipeline. But if that is all this is about -- DeSean as expensive diva -- then the Eagles owe it to him to say that, because the lingering impression created by the timing of Jackson's release is that the team was deeply concerned about something a lot more serious than pouting. It is damaging to Jackson's reputation, of course, and -- more immediately -- potentially to his wallet.
When trying to divine why the Eagles would let a premier player in the prime of his career go, I think not about the rumors of gangs and Jackson that were out there even before that story broke last Friday, but of Kelly's session with reporters last week at the NFL Annual Meeting. There, Kelly was asked how the offense could be better without Jackson. The answer he gave was illuminating, a window into the mindset of a coach who thinks the system can make players great at least as often as the other way around.
Brooks: Ideal fits for WR prospects
The right environment is key in the NFL. Bucky Brooks pairs the 2014 NFL Draft's best receivers with suitable pro teams. **READ**
"I don't think our offense has ever been predicated on one player," Kelly said. "We used three quarterbacks last year. We used multiple running backs. Our tight ends are integral to what we do. I think we have an outstanding offensive line. It's never been about just one guy. ... You want great players at every position, and I think that's what we're always striving for, in terms of where we can put people into position. It's never been predicated on just one guy, because if it is, if he's out for a water break or hurt for an extended period of time, then you're going to be in trouble."
Maybe Kelly will be proven right, but we won't know that until September at the earliest. For now, the answer to that question from Orlando is much more straightforward. The Eagles are not better without Jackson, and the playmaking ability of whichever team signs him will be enhanced.
That, though, is one of the only things certain in a story shrouded in mixed messages and uncertain truths. The other is this: Whoever signs Jackson had better be sure about what they are getting -- as sure as the Eagles had better be that they were right about the player they know better than anybody.