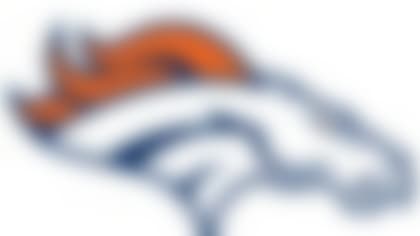 With free agency looming and the draft approaching, the Broncos say they feel good about their safeties, including Quinton Carter, who is recovering from knee surgery and could push Moore for playing time in training camp.
"We anticipate both of them to come back even better," Fox said at the NFL combine last week.
Elway said Thursday on 104.3 FM The Fan radio station in Denver that there's no thought at team headquarters of moving Pro Bowl cornerback Champ Bailey to safety next season, either.
As the AFC's top seed, owners of an NFL-best 11-game winning streak and odds-on favorite to win it all, the Broncos thought they'd be the ones hoisting the Lombardi Trophy in New Orleans. Instead, the Ravens parlayed their stunning comeback in Denver into winning the rings that Peyton Manning and Von Miller were so confident they'd be getting fitted for about now.
While fans may salivate over the likes of free agents Ed Reed and Charles Woodson or any number of younger safeties about to hit the open market, the Broncos' brass continues to praise Moore for the progress he made last season and insist his wasn't the only costly mistake that hurt them in the playoffs.
Rosenthal: Top 85 free agents
This year's free-agent crop lacks star power, but provides immense depth. Gregg Rosenthal ranks available players. More ...
"Rahim had a great year," Elway said at the NFL combine. "The strides he made from his rookie year to this year were tremendous. We expect him to make those same strides and I think the bottom line is for him -- I haven't seen him since the last game, but once he gets back and around his teammates -- there are a lot of things in that game that caused it to end up the way it ended up. It wasn't one play that caused us to lose.
"I'm happy with him and I think I was really impressed with him and how he handled it after the game. He stood up and he took it, which to me showed a great amount of maturation on his part. I'm looking forward to him coming back and even having a better year next year."
Fox took just as much heat as Moore did over what happened next -- ordering Manning to take a knee so Denver could take its chances in overtime rather than trying to move into field goal range with three timeouts and 31 seconds to work with.
"Once the season is over or after the Super Bowl, I think the reality is that everybody is 0-0, or undefeated or however you want to put it," Fox said. "Any loss kind of sticks with you -- scars, I might say -- but you have to spit it out and get onto the next season and not let it linger and affect your preparation moving to the next season."
Copyright 2013 by The Associated Press