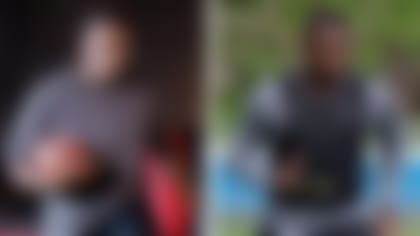 Q: WHAT HAS YOUR WORKOUT REGIMEN BEEN LIKE SINCE THE SEASON ENDED?
A: As far as the combine goes, I did a lot of 40-yard dash training, a lot of bench press, jumping and explosive workouts. Now it's all about football shape. Doing drills. Bag drills, a lot of pass rush. I'm doing a ton of dropping and cutting. Working out in space.
Q: WHAT'S THE MOST IMPORTANT TRAIT FOR A DEFENSIVE END GOING INTO THE PROS?
A: Get off. Everything starts with the get off..
Q: WHAT DO YOU HAVE TO TRAIN FOR THAT SEPARATES YOU FROM OTHER POSITIONS?
A: Pass rush drillls. Not many people have the opportunity to pass rush on every play. It's a craft in and of itself.
Q: HOW HAS YOGA HELPED YOU AS AN ATHLETE?
A: It's helped me tremendously. It'll change your athleticism. Get you flexible and stronger. You'll be surprised.
Q: WHAT POSITIONS IN YOGA WOULD YOU RECOMMEND FOR A DEFENSIVE END?
A: All the Warriors. You'll have to google all these. Warrior 1. Warrior 2. Reverse Warrior. It's different poses you do. All of them will help you become a better pass rusher.
Q: WHAT ADVICE WOULD YOU GIVE YOUNGER DEFENSIVE ENDS IN HIGH SCHOOL?
A: Be consistent. Work hard on the pass rush. It's a skill. It's not something where you say I'll come on Friday or Saturday and show up and I'm going to get at the quarterback. You have to work your craft to become a good pass rusher.
Q: WHAT OTHER PASS RUSHERS HAVE YOU MODELED YOUR GAME AFTER?
A: Shawn Merriman. Robert Mathis. I'll watch any dynamic pass rusher because you'll learn from anybody. And I've watched every pass rusher.
Q: WHAT HAS YOUR DIET AND NUTRITION REGIMEN BEEN LIKE AS YOU TRAIN FOR THE PROS?
A: I've always been a healthy eater. I'm very conscious of what I put in my body because it affects my performance. I drink a lot of cocount water and eat quinoa for carb purposes. Fish for my protein. Almonds. And flaxseed oil. All kinds of vegetables and fruits.
Want to learn more NFL player workouts and offseason training tips? Visit NFL Up! to discover the workout secrets of the NFL's best and get fit like your favorite player!