Few things rile up the fantasy community quite like a head coach or offensive coordinator talking about a committee approach in the backfield. Newly minted Tampa Bay Buccaneers OC Jeff Tedford dropped that bomb back in June.
"I don't believe that one back can carry the load," he said. "I think you probably need to have two to three guys to bring different things to the table." Well, great, thanks Teddy.
Now fantasy owners have to wring their hands when Doug Martin's name remains on the board in fantasy drafts this fall. NFL Media Reporter James Koh, a Cal alum, recently weighed in to dispel all of this running back-by-committee (RBBC) hooey. His piece helped assuage my worries, but they didn't go away. So I thought I'd dive into the numbers and game tape, fantasy film study-style, to see if I could shed some light on this bloated Bucs backfield. As usual, GameRewind was the vehicle for this magical journey, and if you like the idea of having hundreds of NFL games to watch at the drop of a hat, then do yourself a favor and sign up.
Deciphering the depth chart
Word from The Sunshine State is that those fighting for a spot in this "committee" are Doug Martin, Mike James, Bobby Rainey and rookie Charles Sims. Jeff Demps could end up making it into the mix via special teams play, but for the sake of fantasy we'll leave him out of this. Martin and Sims are likely the only guarantees to make the team, but if James can recover from the broken ankle he suffered late last season, he could be a major player in the Bucs' offense. He absolutely thrashed the Seattle Seahakws to the tune of 158 rushing yards last season, showing great burst, vision and strength in breaking tackles -- all of which are on display in the 21-yard run below.
You can control the playback of the GIF below by hovering over it with your mouse cursor.
Martin will still be option No. 1 in the backfield, but James and Sims especially offer great options coming out. Rainey had two 100-yard games as the lead back down the stretch, but both were aided by long touchdown runs that were the benefit of bad defense. Removing those two runs (a 43-yarder against Atlanta and an 80-yarder against Buffalo) and Rainey averaged a massively unspectacular 2.86 yards per carry. He wasn't able to grind out the same tough yardage as Martin and James, which leads me to believe he could be the odd man out here.
Oh, about that offensive line ...
More than anything else, the offensive line play was the chief culprit in the ineffectiveness of the Bucs' run game last season. While watching the tape, I repeatedly witnessed Martin and company running into a brick wall of the wrong colored jerseys. Martin and James were both great at side-stepping immediate pressure in the backfield to turn nothing into something. Check out this Martin run from Week 3 against the New England Patriots. Vince Wilfork is in his face like a freight train, but Martin manages to sidle out of the way and gain five yards.
When looking at the Bucs' prospects for 2014, a retooled offensive line could be the biggest boon for the success of their backfield. Donald Penn, Jeremy Zuttah and Davin Joseph have all been put out to pasture, while the fleet-footed Anthony Collins and underrated Evan Dietrich-Smith have been brought in to bolster the front line. Sadly, All-Pro guard Carl Nicks' time with the Bucs is over, as he and the team have agreed to part ways after he endured multiple battles with MRSA infections. When healthy, Nicks was one of the better guards in football. The Bucs could have used a healthy Nicks too, as the depth behind him at the guard position isn't anything to write home to mom about (because you all write to your moms about offensive guards, no?). Even without Nicks, the Bucs could field a much improved offensive line that stops letting things like the below screen grab happen. Martin is highlighted in yellow. Viewer discretion is advised.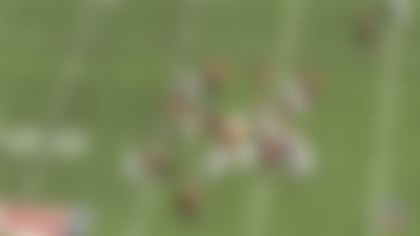 Tedford, committees, and scheme
Tedford, like pretty much every coordinator in the NFL, will feature a variety of power (man) and zone-blocking schemes which will suit his stable of backs. What I was more curious about was diving into Tedford's history of using a committee backfield. In Koh's piece (which I advise you to read), based on Tedford's run with Cal, starters in a full 16-game season would accumulate anywhere from 275-300 rushes, with backups clocking in around 120-130. With this in mind, below I charted the percentage of carries between the No. 1 and No. 2 running backs during Tedford's career at Cal. The percentages don't include runs by the quarterbacks, but do include runs by wide receivers.
Jeff Tedford running backs at University of California
So in five of Tedford's 11 years at Cal, his lead back carried the rock more than 60 percent of the time among running backs. And in all of the years, there was a pretty clear lead back, as the average difference in percentage of carries between the top two backs was 31 percent, and 17 percent in the years when the lead runner didn't hit 60 percent of the carries.
Now, let's take this data and push it back into fantasy relevance in the NFL. A back can still be successful in fantasy with only 50-60 percent of his team's carries. For instance, Ryan Mathews was fourth in the NFL last season in carries (285), yet toted the rock just 63 percent of the time for the San Diego Chargers. Those numbers match up a lot with Koh's projections. Meanwhile, Reggie Bush (54 percent), Fred Jackson (44 percent) and Giovani Bernard (41 percent) all had top-16 fantasy finishes with less than 60 percent of their teams carries. This doesn't take into account the number of passes some of these running backs catch, but still is a good indication of potential for fantasy success despite their limited usage. So even if Tedford does divvy up the workload into a two- or three-pronged attack moreso than Koh envisions, there will still be fantasy success to be had.
Diving into the film and stats for Tedford and the Bucs reveals that a committee might be more likely than my colleague James Koh had surmised, but that doesn't mean the Bucs backfield is going to be a fantasy wasteland. Martin likely won't hit his outrageous rookie totals, but when you look at Tedford's track record in "committees," the improved offensive line, and Martin's raw talent he seems as sure as anyone to be a solid RB2 in fantasy this fall. The battle between James, Sims and Rainey merits watching during training camp to see who emerges as the No. 2 option. Once that is clearer, they could be a steal as an RB3 or RB4 later in drafts with more potential than their draft status merits.