The knee-jerk reaction that came to mind after seeing that there would be a "A Football Life" dedicated to Darrelle Revis was not that makes sense or * yes, finally!* or even a I wonder if Mark Sanchez is next.
Nope, the first thought was how ironic.
This is the only the second episode in three years of the popular NFL Films series to dive into the life of an active player. And the fact that for the second time the focus is on a defender -- you know, the guys who play on the other side of the line from the offense -- is quite a twist. It was common knowledge that Ray Lewis, the first active player feature on "A Football Life," was retiring when his episode aired last season. Revis, on the other hand, is a defensive back in his prime, not a 37-year old linebacker on his way out.
Well, yes, when you think about how much offense is driven into our football senses. Over half of NFL Network's "The Top 100 Players of 2013" played on offense. And pretty much every rule tweak, be it for player safety or otherwise, has in its underbelly had a big bowl of pudding for offenses and rotten broccoli for Revis and the defenses trying to stop them. So when seeing that the second active stud featured in "A Football Life" was not Megatron, A.D. or RGIII but in fact Revis Island, don't blame me if I thought I read the name wrong.
So why Revis? And was I the only one who felt this way?
To answer the first question, part of it was his greatness as a player. Revis is a household name despite the fact he plays a position -- corner -- far less sexy than quarterback, which is why we see RGIII holding Subway sandwiches and not Revis batting them away (although admittedly, that would be awkward). The other factor was random chance. Not really the good kind of happenstance, either.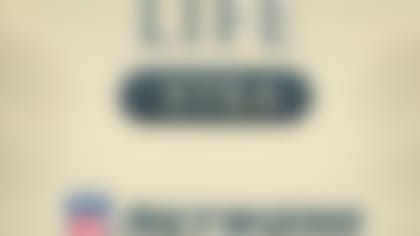 For additional A Football Life: Darrelle Revis content, download the NFL Mobile app and check out A Football Life Xtra. More...
"About a year ago we're sitting in a planning meeting," explains Andrea Kremer, the other central figure in "A Football Life: Darrelle Revis", "and we said, 'You know, what if ... a player the caliber of an Adrian Peterson gets injured during the 2012 season? Why don't we see if we can follow him and document everything?' And people in the room are sort of like 'yeah sure, right, OK.'
That certainly makes sense at least from a synchronicity standpoint. But it still begs the question, how did a cornerback get so famous that he is considered the same ilk as Peterson, particularly in this day and age when Peyton Manning throws seven touchdowns and fantasy points are more important to fans than pointing out when a defensive back makes a play?
Is Revis that great that he should be the first guy in his prime to be featured in a documentary series that to this juncture has mostly detailed legends of the game? One of his defensive backfield brethren isn't convinced.
"To be bluntly honest, (Revis) was lockdown-potential, quasi like Deion early in his career. I don't see him being a Deion Sanders type that needs to get this much exposure," says NFL Network analyst and former New Orleans Saints safety Darren Sharper. "You know, he can take away every top receiver in the league, but he doesn't get the interceptions and take it back to the house, or return punts, that put you in that upper echelon of being an all-time great corner.
"I think it's more of just the 'Revis Island' thing that everybody gravitates towards, and he has been a lockdown corner, probably the top corner the last five years ... so whenever you have that recognition, and people label you as the top corner, you deserve a little bit of attention," Sharper explains. "But I can't see him getting to the level of being like a Deion Sanders, even like a Darrell Green, even like a Rod Woodson, guys like that. He's a little bit of a 'second-tier' to me."
That is an excellent point. It's hard enough for a corner to put his stamp on a game considering he's not a ball carrier. That said, guys like Sanders, Rod Woodson and Charles Woodson were all threats to score once they did get their hands on the football, scoring over 40 touchdowns between them. Sharper himself returned nine interceptions for 376 yards and three touchdowns in 2009 alone. Revis? He has fewer yards and just three touchdowns for his entire career.
Not everyone sees his performance -- or impact, rather -- through that prism. Such as former Seahawks fullback Michael Robinson, who had to pay attention to cornerbacks often as a college quarterback.
"I think it's good that he's famous like he is," Robinson says. "I think the fact that the rules are offensive-minded, and the fact that he can still shut down your best receiver, gives him that clout."
"When Deion and those guys were playing -- and I'm not taking nothing away from them, I think they were all the greatest -- but when they were playing, a wide receiver had to kinda look ... when he was doing that deep dig route, he was looking to see where Ronnie Lott was at before he'd get up to get the ball. That's not happening anymore (because of rules changes).
"Revis is going with the best receivers everywhere. I don't care if they are lined up in the backfield; he's in the box then. You know, he goes with the guys everywhere... so it's warranted, his fame."
To Robinson's thought, Revis has allowed quarterbacks only a 37.8 completion percentage since 2009, despite being locked up with every team's No. 1 receiver. That includes allowing just one touchdown every 38 throws since 2009. That's certainly affecting the game, or at the very least, one side of the field.
Opinions vary on how much effect a player like Revis can have on the game, thus affecting where people place him. He finished 67th on NFL Network's "The Top 100 Players of 2013." So there were more than 60 guys worthy of filling the three-hole on the "A Football Life" lineup before Revis -- in theory.
But upon further review, perhaps that fact more than any other sheds light on what a special player Revis is. He made the top 70 players despite missing almost the entire 2012 season.
What's more noticeable is that, when healthy, Revis ranked fifth in 2012, the highest rated defensive player on the list. For a guy to be ranked that high, despite playing on the wrong side of the ball, and be regarded highly enough for Kremer and NFL Films to tell his story of rehabilitation and change, tells you the real story: This guy has some juice with peers and the average Joe viewer alike.
Either way, if we get another 38-34 barnburner Monday night, it sure will be nice to watch something inoffensive Tuesday; an insider's look at a guy who makes playing defense cool.