So, Monte Kiffin appears to be the man in Dallas. The 72-year-old defensive coordinator truly is -- with apologies to Steve Spurrier -- the ol' ball coach. Which means he brings a lot of experience to an organization that requires it.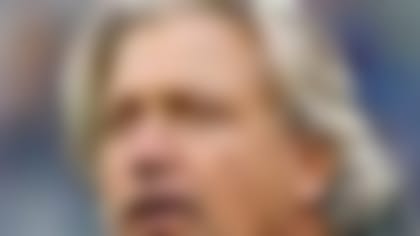 Perhaps the only assistant in pro football whose seen more than Kiffin is the Pittsburgh Steelers' Dick LeBeau, although those two couldn't be any more different in style. In fact, recently fired Rob Ryan is more similar to LeBeau, altering 3-4 fronts and blitzes to confuse offenses. But at the end of the day, Ryan's tactics were deemed not effective enough by Jerry Jones, and many around the league were caught off-guard when the coach with the surfer-dad look was let go. Jones promised changes after an 8-8 season -- turns out Ryan was the headliner ...
... And now that process of change continues with the hiring of Kiffin three days later. This is just the beginning of another long offseason in the Big D. So let's take stock of things with five questions (and answers) about the past, present and future of the NFL's most polarizing franchise:
Who is Monte Kiffin, and what does he bring to the table?
The veteran defensive-minded coach is just that: a vet. He's been at it 46 years, after getting his start as a graduate assistant at Nebraska in 1966. That was four years before the NFL merger. Deion Sanders was negative one years old.
Kiffin has spent 26 years in the NFL, with 15 coming as a coordinator. But he's most famous for his 13-year stint as defensive coordinator for the Tampa Bay Buccaneers (1996 to 2008). It was during that time that he and Tony Dungy perfected the "Cover 2," which ultimately became known as the "Tampa 2." Defensive schemes don't get named after NFL cities unless there was a lot of success involved. Dungy and Kiffin helped turn the NFL's laughingstock franchise, a club that had suffered through 13 straight losing seasons, into a playoff team in only their second year. (The Bucs went to the playoffs four of six years under Dungy.)
Kiffin's 4-3 defense had the three D's -- it was disruptive, disciplined and damn good. The unit, with players like Warren Sapp and John Lynch, was considered such a major factor that Jon Gruden retained Kiffin upon taking the Tampa Bay head-coaching job in 2002.
Are the Cowboys suited for a 4-3 shift after playing a 3-4 under Ryan?
Not exactly. Capable of change? Sure. Best suited? Not yet. DeMarcus Ware, Sean Lee and Jay Ratliff -- the three best players on the defense -- excel in the 3-4 scheme Dallas has been playing.
In a 4-3, Ware would have his hand in the dirt more often and would not have the opportunity to lock up with tight ends or running backs in pass protection as often. Since entering the league, he's only played the 3-4 OLB. In fact, the whole reason he was selected 11th overall in the 2005 NFL Draft was so former Cowboys coach Bill Parcells could switch the team to a 3-4 base scheme.
Meanwhile, Lee would transition to middle linebacker in a 4-3. This could be fine, but considering Lee is already one of the best -- if not the best -- in the game at inside linebacker, do you really want to mess with his development going into his fourth NFL season? Lee's role in Kiffin's traditional defense would be that of Hardy Nickerson, a middle 'backer who could get depth in covering the middle of the field, and a big part of the Bucs' defense that held the "Greatest Show on Turf" -- the 1999 Rams -- to only 11 points in the NFC Championship Game. Think Brian Urlacher here.
Ratliff would make the most sense in a 4-3, as he was drafted as a defensive end and is a bit undersized on the nose. Yet, he's been one heckuva disruptive, gashing nose tackle. Even Ryan said of Ratliff, "We're a different defense with him in there." Ryan would know: Ratliff missed 10 games in 2012. If healthy, he could fill the Warren Sapp role (a poorer man's version from defensive tackle).
Another guy who missed some time, outside linebacker Anthony Spencer, just had his best NFL season with 11 sacks. Any potential scheme changes might partially hinge on whether or not they re-sign him. If they don't, playing the 4-3 and sliding athletic, high-upside ILB Bruce Carter outside might make the most sense. In that scenario, Dallas would likely draft a smaller defensive end, while pushing the underrated Jason Hatcher from the edge to defensive tackle.
Bottom line:This is a 3-4 defense, and you don't necessarily want to turn your top-notch starting pitchers into middle relievers for nothing. That said, if Monte Kiffin is the man for the job, and you take into account his tremendous success as a 4-3 guy ... and Spencer walks on the open market, then a broad, sweeping philosophical switch makes sense.
So, was Rob Ryan's defense the problem in Dallas in 2012?
No, injuries were the biggest reason the Cowboys missed the playoffs. Just to give you an idea of how depleted this unit was, during the second half of the Week 14 game against the Cincinnati Bengals, Ryan fielded a defense without his usual starters at defensive end, nose tackle, left inside linebacker, right inside linebacker, slot cornerback, right cornerback and strong safety. Ware played the last several games with an injury. That made a huge difference in the de facto NFC East title game against the Washington Redskins in Week 17, when the Cowboys could not hold the edge versus Robert Griffin III and Alfred Morris.
In addition to Ware's compromised status, Lee missed the last 10 games of the season, while Ratliff played in just six contests. Ratliff's backup, Josh Brent, was involved in the drunk-driving accident that killed teammate Jerry Brown and rocked the franchise.
Bottom line:The wave of injuries must be taken into account when assessing Ryan's 2012 unit. And even so, the defense isn't the only component worthy of blame. Great cases can be made for a porous offensive line and some suspect game management, but those are diatribes for another day.
Was firing Ryan an awful move?
No. Despite the fact that I think he did a commendable job, given all the adversity detailed above, Ryan is what he is: An unorthodox defensive coordinator who doesn't get as many takeaways from his unit as he should, despite the ever-changing personnel groupings and aggressive techniques he employs in the back seven. Moreover, Ryan's apparent off-the-cuff tactics with blitzing and fronts -- meant to confuse opposing offenses -- often confused his own guys, which is why you repeatedly saw too many men on the field, too few guys on the field, or defensive backs looking at each other quizzically. This disorganization was chronicled in a strong piece by Bryan Broaddus on DallasCowboys.com.
And then there is Ryan's underwhelming track record. Here's how Ryan-commandeered units have ranked in total defense since 2004, when he first became a coordinator: 30th, 27th, third, 22nd, 27th, 31st, 22nd, 14th and 19th. Those last two rankings are from 2011 and 2012, his two seasons in Dallas. And in those years, Dallas finished 16th and tied for 28th in takeaways.
Bottom line: Ryan might've done the best he could in 2012 with a MASH unit, yet if Jerry and Stephen Jones feel Kiffin is an upgrade, it's hard to argue with them in light of Ryan's overall catalogue of work.
I wouldn't expect any changes the magnitude of the Ryan firing coming down soon. Sorry, haters: Tony Romo is not getting traded. Probably the biggest truck coming down the turnpike is what happens with Spencer. There aren't a lot of double-digit sack guys walking around in the marketplace.
As far as Kiffin is concerned, maybe last season at USC wasn't his finest. But Jones wouldn't have hired him if he felt he couldn't fit in. Jason Garrett is the head coach, and while jokes abound about him being Jones' red-headed puppet, ultimately it's the head coach and his staff who meet regularly. So Garrett and Kiffin must cohabitate. I think they will. On the surface, Garrett and Ryan made it work, even when the team didn't perform well, or when Ryan received an embarrassing unsportsmanlike penalty from the sidelines (a rarity for a defensive coordinator). Ryan is not for everybody, which tells you that Garrett is more adaptable than one would think -- his focus truly is on winning. We'll see how it goes from here.