HOUSTON -- Have you ever reflected back on an event and said, If only I'd done this ... or if only I'd done that ... ?
When it comes to the harrowing tale of cornerback D.J. Hayden, if anyone had second-guessed their actions, the 2013 NFL Draft prospect would not be alive today.
It was Nov. 6, 2012, during a full-pads practice at the University of Houston.
Hayden was on one side of the field while freshman cornerback Trevon Stewart was on the other. Stewart idolized Hayden, even had a picture of him on his iPad from when Hayden was at Navarro Junior College. And once Stewart came to Houston, Hayden helped him adjust to college life, on and off the field.
"I really just took him under my wing like a little brother," Hayden said.
Yet in one improbable, freakish moment in time, Stewart almost killed Hayden.
A receiver ran a post pattern and the ball was underthrown. Hayden went to break on the ball, as did Stewart. They collided accidentally, Stewart's knee striking Hayden in the chest. They both fell to the ground. Even upon review, the play looks fairly innocuous. But Hayden remained on his hands and knees. At first, he thought he had just had the wind knocked out of him, but he couldn't move.
As usual, Mike "Doc" O'Shea was on the sidelines and happened to be watching the defense practice at the moment of impact. O'Shea has been at the University of Houston for two decades. He's been an athletic trainer for 48 years. He thought he had seen it all ... until Nov. 6.
"When he got up finally, I walked him over and his chest was hurting. That told me something wasn't really right at that time," O'Shea said. "And for some reason, I just said to myself, something's not right."
O'Shea was the first responder on the field and the first domino to fall. His decisions set off a chain of events that saved Hayden's life. And why did he do what he did, never having been in that situation before? He followed his gut instincts.
Brandt: Revisiting The Hot 100
Gil Brandt takes another shot at ranking the 100 best prospects in this tricky draft class -- and makes plenty of changes. More
First, Hayden rode a cart off the field instead of walking into the locker room. That saved minutes. Then, once inside, O'Shea didn't even let Hayden shower. That saved more precious time. At that point, Hayden still couldn't breathe well; he felt cold and had started shivering. He was losing blood but didn't know it. Suddenly, his left eye went black, and all he could see were stars. O'Shea needed an ambulance, and one of his assistants called 911. O'Shea jumped in the ambulance for the short ride to Methodist Hospital, where the University of Houston sends its athletes. But the emergency medical technicians made the call to go to the Memorial Hermann Texas Trauma Institute instead.
At the trauma center, Dr. Ron Albarado had already gotten word that a case was coming in -- a football injury.
"Most commonly, it's somebody that got a helmet to the abdomen, or a knee to the abdomen, liver, spleen, something that we handle on a routine basis, and it's fairly straightforward decision-making," said Albarado, the trauma surgeon in charge of the operating room team.
Normally, he'll get one page with initial vital signs when an ambulance or airlift is en route. But on this late afternoon, he received a second alert, as well.
"They actually had a second notification, which they called in directly and asked to talk with us to let us know that things just didn't look right -- he looked way worse than the vital signs -- to kind of give us a heads-up that this wasn't maybe what we thought it was," Albarado said. "So that kind of put us on edge a little bit, and I thought it was unusual. They very seldom call. You have the sickest of patients, and they don't call in and give us an additional phone report. So we definitely walked a little bit faster towards the emergency department that day."
When Hayden was wheeled in, he was sitting upright and talking. A good sign? Possibly the only one. An ultrasound showed there was internal bleeding, but doctors thought it was a spleen or liver injury. At least Hayden's sense of humor was intact, because he had other concerns when doctors told him he had internal bleeding and they'd have to cut him open.
"Just don't mess my abs up," Hayden said he told the doctors.
Once the surgical team opened him up, they didn't find what they were expecting.
"We found blood, did not find a liver injury, did not find a spleen injury, but I found there was blood leaking from something higher up in the chest," Albarado said. "And the situation changes drastically at that point, from something that's fairly routine for us to something we were not anticipating."
That was when a seemingly straightforward operation became a crisis. They sawed open Hayden's sternum and discovered trauma never before seen in an athletic injury.
"The main blood vessel, the vena cava, bringing blood from the lower extremities back to the heart, was nearly completely torn off the back of the heart," Albarado said.
"It's an unusual day at work to have a guy rushed to your surgical suite right off the football field with an injury we're used to seeing coming from a major trauma setting," said Dr. Walter Lowe, team doctor for the University of Houston and the Houston Texans. "There's no precedent on the athletic field. There's car wrecks and those kinds of things, but not in an athletic event -- in explosions, war or other places."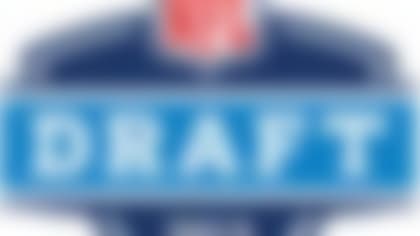 With the draft right around the corner, NFL.com ranks the top prospects available at every position on offense and defense. More ...
When they opened Hayden's chest, he lost vital signs; all in all, he received the equivalent of three full-body blood transfusions. In fact, initially, blood was spouting out of his torn vena cava like a geyser, forcing Dr. Albarado to do the only thing he could.
"I kept my fingers on the vena cava to buy us time. He didn't have much of his original blood in his body at this time. He was five minutes away from dying by the time we got to the heart. He had very little reserve. He had the stress of a major operation. Essentially, open-heart surgery."
Two-and-a-half hours later, the surgery was complete. Albarado likened repairing the vena cava to sewing together wet toilet paper; every time he would put a suture in, it would practically disintegrate.
"This was a non-survivable injury, unless everything works absolutely perfectly," Albarado said.
When Hayden awoke in the ICU the next day, he had no idea of the severity of the injury, the depth of the surgery or how close he had come to losing his life.
"I said I had a test tomorrow. And I was like, hold on, I can't play in the game? They (said), 'No, you can't play in the game.' I was like, man ... and I screamed."
His mother, Tori, tried to put things in perspective for her son. Only then did the reality sink in for Hayden.
"I just told him that the inferior vena cava had torn and that he lost a lot of blood and that they stitched him up," Tori Hayden said. "I did tell him that it was 95 percent fatal and he could have lost his life."
Typically, patients spend up to six weeks in the hospital recovering from this surgery; Hayden was out in six days. But those days -- and the ones that followed -- were fraught with self-doubt. And then there is the scar, the one that runs from the base of his neck straight down his entire torso.
"Why do I have to go through so much pain, why do I have to? Just, why me? Why? That was the lowest point," Hayden recalled. "I was scared every time my heart would beat fast. I got nervous because I thought, like, the vein was gonna tear again."
Plus, he lost about 25 pounds. Football seemed to be the last thing on his mind, especially since he could barely walk up a flight of stairs at home without collapsing. All of this for one of the top cornerback prospects in the country in 2012 -- a first-team All-Conference USA honoree, despite participating in just nine games.
Physically, Hayden healed relatively quickly, being the elite athlete he is. Mentally, he faced reality by reaching out to his teammates as soon as he left the hospital. He surprised the players by walking into a team meeting, inspiring sheer astonishment -- and relief, especially in young Trevon Stewart, who was riddled with guilt after his accidental knee caused so much damage.
When Hayden stood before his teammates, he explained what happened to him by playing show-and-tell. He drew a picture of a heart -- like a kid's drawing -- with a tube coming out of the bottom (the vena cava) that had a tear. The room was silent as players realized the magnitude of the injury and processed his near-death experience.
But it's not that memory that brought Hayden to tears when recalling the entire ordeal. It was the recollection of Senior Day, when every player's jersey was adorned with H-A-Y-D-E-N across the back. The idea that he was with -- and yet, not able to contribute to -- his team made Hayden break down.
The prognosis for recovery from emergency surgery for a torn inferior vena cava is approximately one year. Yet four months after he walked out of the hospital, D.J. Hayden ran a 4.3-second 40-yard dash at the University of Houston Pro Day -- just one more stage of this miraculous timeline.
"He is a walking medical miracle, I think," Lowe said. "It is one of those things that you take a step back and look at the whole process, and it makes you so proud that the trainers you trust do what they're supposed to do. The fellows you trust do what they're supposed to do. Paramedics you trust do what they're supposed to do. This was a day where everybody did the right thing. Every single person did the right thing. And with that, it's a feel-good story. It has a fairy tale ending."
What will be the next chapter of this tale? Where will Hayden get drafted? NFL Network draft guru Mike Mayock has him rated as the third-best cornerback prospect in the entire class, saying Hayden passes the first-round test on tape. Mayock had one NFL GM tell him that he'd love to get Hayden in the third round, but that's based on medical hesitancy. With a fully clean bill of health, Hayden would project as a mid-to-late first-round pick for that GM.
Thirty-two teams, 32 different medical assessments. Some might take him off their draft boards completely. Others might give him a red flag. For some teams, it won't be a concern. Some teams are more worried about durability issues after he pulled a hamstring running his second 40 at his pro day. One AFC head coach assessed Hayden as a late-third to fourth-rounder, with great value in the fifth.
The medical consensus seems to be that as long as his body has healed inside and out, he faces no greater risk than any other player that this freakish accident will recur. But questions remain, and his situation is unprecedented. Can he take and deliver hits, not just physically, but even more so, mentally?
"I just need to get hit one time," Hayden insists. "I just need someone to come smack me. And I just gotta shake the rust off. Because I ain't played in a couple months. Once I shake the rust off, I'll be fine."