Wisconsin offensive lineman Rob Havenstein gets ready to run through a drill at the 2015 NFL Combine. NFL hopefuls train a great deal leading up to the combine, the biggest job interview of their athletic career. (AP Photo)
NFL prospects have trained countless hours over the past two months for this one day, this one rep, this one chance to impress the NFL teams in Indianapolis.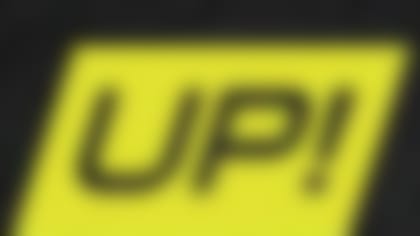 Looking to Up! your game? Take a look at NFL Up! to view workouts and tips from NFL players and trainers to ensure you're ready for game day. More...
Millions of people will tune in to the 2015 NFL Combine. They will watch football players of great strength, speed and skill compete in what many consider the "Underwear Olympics." What the spectators do not get to see is how much time each of these athletes has devoted to improving his 40-yard dash speed, his agility time, his interview skills and his body fat level. Just think: One-tenth of a second slower or faster could easily be the difference in millions of dollars for a prospect. Indeed, the combine training business has become a multimillion dollar enterprise.
Once an NFL prospect has completed his college football career, he typically signs with an agent and reports to a training facility to begin preparing for the "biggest job interview" of his young adult life. Most players will arrive at a training facility during the first week of January. Athletes typically have up to six weeks to work with performance and position coaches at these facilities throughout the country. NFL agents spend thousands of dollars to train, house and feed their clients. The goal for the athlete is simply to become stronger, faster and better.
Below is what a typical training day entails for those athletes preparing for the NFL Combine:
9 a.m. - Team meeting on daily objectives
9:30 a.m. - Workout 1 (on the field for combine specific drills, including the vertical jump, broad jump, 40-yard dash, L cone, pro agility and positional drills)
11:30 a.m. - Lunch; post-workout supplementation
2 p.m. - Workout 2 (in the weight room to train plyometrics, Olympic lifts, lower body and upper body strength movements, corrective exercises and core training)
4 p.m. - Recovery and regeneration session including hot tub, ice tub, chiropractic adjustment, massage and flexibility sessions; post-workout supplementation
7 p.m. - Team meeting focused on interview skills and/or film review
This template is followed four days a week leading up to the combine. During off days, players will participate in active recovery sessions, such as yoga and pool workouts.
Average improvements for the athletes who partake in training programs - such as those at Ignition, EXOS, Fischer's XPE and Bommarito Performance - can be as much as 14 pounds of muscle gained, .3 seconds faster in 40-yard dash time, six inches higher on a vertical jump and 12 more bench press reps.
The daily mental grind for these draft prospects can be grueling. Early mornings and late nights are the norm for athletes and coaches who are participating in the training. During this training period stress, anxiety and fear can sometimes overwhelm athletes if they aren't mentally tough. No one player knows what his future will hold. Therefore, the athletes must be reminded over and over by coaches, agents and mentors to "control what you can control; that being your attitude and effort" during the training process.
With increasing pressure to impress at the job interview, sport psychologists often are used to help the athletes prepare for the mental demands of the combine. These specialists also teach an athlete how to get into the "zone" before his big workout and how to handle nervousness.
Sports nutritionists carefully plan out each meal for the athletes who are looking to lower their body fat. Along with determining daily calorie requirements, nutritionists will calculate how many grams of proteins, carbohydrates and fats these players need.
Position coaches who have either played or coached at the NFL level will assist athletes in preparing for the position-specific drills conducted on the field in Indianapolis. These coaches also review film from a player's college career to help maximize his strengths and minimize his weaknesses.
The most rewarding part of any combine training program is watching the athletes reap the fruits of their labor. Another great part of the training is the memories made and the relationships that are built with coaches and fellow draft prospects; these memories and relationships will last a lifetime.
So this year, don't simply watch the NFL Combine. Instead, both watch and celebrate these athletes who've trained hundreds of hours - with thousands of reps - to be at their absolute best for the biggest job interview of their lives.
- Clif Marshall is the Performance Director at Ignition Athletics Performance Group. He also serves as a consultant to the Cincinnati Bengals Strength Staff. Since launching an NFL training business at Ignition in 2008, Marshall has trained hundreds of NFL athletes on all 32 rosters, including league MVP's and top-10 draft picks. Ignition has trained a number of players who hold all-time NFL Combine records.