NEW ORLEANS -- It'd be easy for the San Francisco 49ers' offensive coaches to bask in the glow of Colin Kaepernick's meteoric arrival on football's center stage -- and say they saw it coming all along.
That'd make for a nice fairy tale, too.
The true story? Greg Roman is happy to tell it, and the Niners offensive coordinator knows it won't make him come off as the second coming of Bill Walsh.
Had Alex Smith not been concussed against the St. Louis Rams in November, there's a very good chance Kaepernick wouldn't have gotten a shot this season. Smith was playing too well, the second-year phenom was too much of an unknown, and it's not like the way San Francisco was playing called for an overhaul at the game's most important position.
Maybe the Niners would be here anyway. Maybe they wouldn't. In any case, it's hard for Roman to argue against the notion that, sans injury, Smith would still be starting.
"I don't see why not," Roman responded, when asked late last week. "I don't see why not."
Barring another injury, Smith has likely played his final meaningful snap as a 49er. Kaepernick has firmly established himself as the franchise's future.
But as it was, back on Veteran's Day, when Smith first went out and Kaepernick went in, neither Roman nor Jim Harbaugh knew exactly what to expect. In fact, it wasn't unanimous in the building that the second-year signal-caller, picked 36th overall in 2011, was going to be the long-term answer at all. And everyone, those who believed and those who didn't, really had to see him in real game action to know.
"You really didn't know how Kaep was gonna respond," Roman said. "You really didn't, in any situation. You didn't know how he was gonna handle all the different situational stuff, you didn't know how he was gonna handle constant pressure, crowd noise, man coverage, zone coverage, this, that, the other. I mean, you just didn't know. It's something you work through. You coach through it."
His teammates didn't know, either.
Super Debate: Kaepernick or Flacco?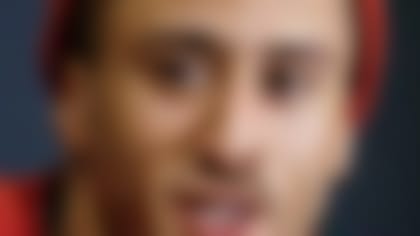 Starting a team from scratch, who do you take: Colin 
Kaepernick or Joe Flacco? Our analysts provide quite a statement. **More ...**
Through Smith's 27-start renaissance under Harbaugh, Niners players had come to believe in him. On top of that, they were coming off an appearance in the NFC Championship Game, with a boatload of in-their-prime studs in the midst of a window of opportunity for the franchise.
That doesn't exactly set up as the type of situation where most teams would venture bold changes.
And even after Kaepernick threw for 243 yards and two touchdowns in a 32-7 rout of the Chicago Bears -- a game Smith wasn't cleared for -- most guys shared tight end Delanie Walker's perspective: "I thought Alex was gonna get his job back." It was only after Smith was cleared the next week and Kaepernick remained in the lineup that it became real for the players. Even then, no one was positive the move was permanent.
"It was a shock for everyone," guard Alex Boone said. "Everyone was a little taken aback. But as a team, you gotta learn to live with the decision that's made, and I think everyone did a great job of that. Harbaugh has the final say, whatever he says goes."
Roman explains now that, really, there was no moment of clarity when Harbaugh's move to simply go with the "hot hand," in his words, became a hallmark decision.
It happened gradually, progressing eventually to the point of no return.
"It's literally been just an evolutionary process," Roman said. "There wasn't any moment where the sun just started shining. No, none of that. It's just day-to-day."
The more Kaepernick played, the more the Niners learned -- most of all that he wasn't going to let go of the opportunity he'd been handed by circumstance.
Kaepernick stayed on course against the New Orleans Saints in his first game as the official starter over Smith, and threw four touchdown passes three weeks later in dreary, cold, wet Foxborough. He helped the Niners secure a playoff bye and then ran wild against the Green Bay Packers in his first playoff game, posting an NFL QB record 181 yards rushing to go along with 263 yards passing and four total touchdowns. One week later, he captained an inspired comeback against the Atlanta Falcons while logging just two carries. Just as important, he avoided the real stinker that young quarterbacks often endure.
And he won over the team, with Boone explaining that the normally quiet and reserved Kaepernick showed a side he hadn't before, with the spotlight bringing a swagger to life: "He's got such confidence in himself." The coaches, too, watched as live action illuminated what they had in No. 7.
Roman says he's found out "quite a bit, and I'm still learning" about Kaepernick. The biggest thing, according to the offensive coordinator, was the precocious quarterback's "ability to focus on the moment, the task at hand, and block out what just happened, good or bad, and move on with a competitive fire."
All of that makes it easy to forget how many felt back at the end of November. Roman won't: "There was a lot of unknown, and a great leader like Alex was gonna have to step back for a moment."
But in the end, Harbaugh (and by extension, Roman) fell back on how his old college coach, Bo Schembechler, would make a decision: with resolve and without overthinking it. So while it was most certainly a dice roll, the coaches wouldn't let themselves get too wrapped up in the possibility of the call crapping out.
"You don't concern yourself with the risk -- at least we didn't concern ourselves with it," Roman said. "When making a decision, you're always gonna make the best decision. And whether it's viewed as a safe decision, a risky decision, you can't factor that in too much. You miss the point if you do that. You go with the decision that gives you the best chance to win, and worry about all that other stuff later."
As it turns out, Kaepernick hasn't given his coaches much reason to fret over that decision at all.