It turns out that it is Kaepernick who made the bigger bet -- on himself.
If the contract had actually included $61 million in fully guaranteed money, it would have been a record, and it would not even have necessarily been overpaying Kaepernick. The 49ers have gone to two consecutive NFC Championship Games and one Super Bowl with Kaepernick as the starter.
» They like him a lot ... but their attitude is, essentially, wait and see.According to terms of the contract revealed to NFL Media Insider Ian Rapoport by someone who has seen the agreement, it follows the recent NFL vogue for so-called "pay as you go" deals. Kaepernick will get a little more than $13 million fully guaranteed -- nothing to sneeze at, but the only real guarantee.
The expectation and hope is that Kaepernick will become an even better quarterback in the pocket to buttress his jaw-dropping running ability. And, of course, that he will finally solve the best rivalry within the best rivalry in the game: the Seattle Seahawks' defense has cost him three of his losses as a starter, including the defeat in last season's NFC Championship Game.
If Kaepernick continues on his upward trajectory, he stands to earn millions more in guarantees that kick in each year. But because each year of the deal between 2015 and 2018 is guaranteed only for injury until April 1 of that year, and 2019 and 2020 are not guaranteed at all, the 49ers essentially have created a series of one-year contracts. They can potentially dump Kaepernick each year, and late enough in the free agency period to damage his ability to find suitable work with another team -- essentially inoculating themselves against the possibility that Kaepernick will fail to develop or backslide in San Francisco, only to flourish elsewhere.
The 49ers are built to win right now, and they have squatted on the rights to the quarterback they think can do it for them. If they decide they were wrong, they can simply back out and start over. When people think about team-friendly contracts going forward, this will be a good example.
» Kaepernick likes his chances and is making a calculated bet on his own development. The 49ers had most of the leverage here, because if there had not been a new contract, Kaepernick would have made only about $1 million in 2014, a laughably low sum for a player with his résumé. But by taking this deal now instead of playing out the final year of his contract and perhaps forcing the 49ers to use the franchise tag on him in 2015 or hitting free agency, Kaepernick buys himself financial security against the risk of an injury in 2014 -- and also shows how much confidence he has in himself as a rising player.
Of course, the biggest bet on himself would have been to simply play out his rookie deal -- think of Joe Flacco heading into his Super Bowl season -- in the hopes of forcing the 49ers into offering a massive new contract because of his performance. The deal Kaepernick ended up with includes something unusual and complicated: de-escalators, which have the potential to reduce the payout of the contract by $2 million each year, starting in 2015. To stop the de-escalation process, Kaepernick must play at least 80 percent of the snaps in a season and either take the team to the Super Bowl or be named first- or second-team All-Pro. Those are high bars to reach.
By accepting such an odd arrangement when he did not absolutely have to, Kaepernick made a calculated decision to accept an unfavorable structure in exchange for making more money in the immediate future, along with the tantalizing prospect of receiving much, much more money down the line if he develops.
That, by the way, is something he obviously thinks he will do, and for good reason. The 2014 season will be just his second full one as a starter, and the 49ers have invested in players who can help him grow, acquiring receiver Stevie Johnson and drafting Bruce Ellington. These moves also will likely help the 49ers climb out of the cellar in pass attempts, where they resided last season.
"The only thing I can say is, I'm going to work to try and make sure I'm worth every penny of this," Kaepernick said about his relatively paltry sample size. "I'm going to try to win as many games as possible and help this team win as many games as possible."
Instant Debate: Kaepernick's ceiling?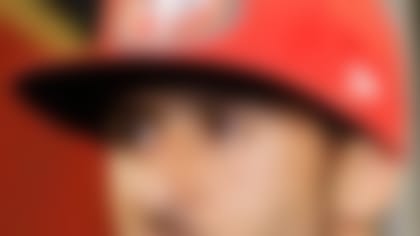 » There's something to keep an eye on if things sour. Because the 49ers can dump Kaepernick more or less whenever they want, they give themselves tremendous flexibility if they eventually have to hire a new coach. Despite ongoing speculation about the tenor of the relationship between Harbaugh and general manager Trent Baalke, there is no reason to think San Francisco will shake things up. But each offseason, stories circulate that Harbaugh is being wooed by outsiders. If Harbaugh is ever smitten enough with a suitor to leave, and his replacement is not convinced that Kaepernick is the right fit, the new regime will not be saddled with a quarterback it does not want.
On paper, this deal favors the 49ers. Still, the timing of Kaepernick's acceptance -- signing now rather than trying to squeeze more out of the team by letting negotiations drag through the summer and closer to the season -- indicates he is happy with the protection against injury he has gained.
The only people who might not be thrilled: the other young quarterbacks who heard $61 million guaranteed and started imagining the riches that would soon be coming their way.