INDIANAPOLIS -- His body dropped into the backseat of an open-cockpit Indy car -- the one about to be driven by racing legend Mario Andretti -- as crew members on each side of him strapped seat belts over his shoulders, toward his waist.
"I'm sitting here thinking, 'OK, I beat leukemia, right?' " Pagano said, letting out a belly laugh and a head shake as he relived the moment in a hallway of the Colts' facility last week. "And now I'm going to go kill myself out here on the track!"
Pagano laughed again. (He laughs often these days.) He laughed because, well, life can be funny like that. It can be funny, how a sudden appreciation for life's fragility, how a relentless respect for all that he has around him, would somehow make a man climb into a race car he has no business being in.
But these days, in the harsh wake of a successful battle with acute promyelocytic leukemia -- a disease that still forces him to take 10-milligram pills of an anti-cancer drug called all-trans retinoic acid (or ATRA) -- there is no ride too scary. There is no pill too tough to swallow. There is nothing, not a bad practice or a hard loss, that will make this survivor flinch.
"Every day when I was sick, you just ask, 'Please heal me,' " Pagano said. "As you're going to sleep, you say, 'Please heal me.' Wake up in the morning, 'Please heal me.' Then, when you're healed, when you're going to sleep, when you're waking up, you just thank God you got through it. You take no days for granted. You live life to the fullest. What's that song?
"You live like you were dying."
Every once in a while, Pagano will get an email from his quarterback, Andrew Luck, who spent time living overseas as a child, when his father, Oliver, was serving as the president of the now-defunct NFL Europe. Luck, you see, wants his coach to explore the world.
"Andrew is trying to get me to go to Italy," Pagano said. "He keeps emailing me these deals. Showing me these deals and Italian towns. He's way more worldly than I am. And he's seen a ton more than me. But that's on the docket now.
"That's on the bucket list."
In the meantime, Pagano will settle for a trip to a different destination before the start of training camp: Boise, Idaho. That's where his oldest daughter lives, and where his wife is from. And while Italy would be nice -- just like it was a thrill two weeks ago to take those laps with Andretti at the Indianapolis 500 Pole Day -- Pagano's new zest for life still revolves around the people in it.
Don't believe it? Ask veteran quarterback Matt Hasselbeck, who signed with the Colts in March as a free agent to be Luck's backup. When Hasselbeck first visited the team's facility for a physical, he was taken aback by the vibe inside the building.
"I think his situation affected everyone," Hasselbeck said. "When I met with (general manager) Ryan (Grigson) and Chuck, both meetings were probably half about football and half about family. With Ryan, he starts it off talking about potentially hoisting trophies. Then, he talks about Indy. And his kids. And my kids.
"When I got in with Chuck, it was the same thing. 'Tell me about your wife. Tell me about your kids. Let me tell you about my wife. About my daughters. About how we met.' It was ... great."
No player on the Colts' team knows Pagano the way defensive end Cory Redding does. Redding played for Pagano when Pagano was part of the Baltimore Ravens' coaching staff -- and Pagano made it a priority to bring Redding to Indianapolis with him.
So perhaps no player is better suited to observe the differences between Pagano's perspective before and after cancer.
"Emotionally and physically, to his friends, to the team, to his family, he's not holding anything back."
  -- 
 *[Colts]() defensive end **Cory [Redding]()**, on Chuck [Pagano's]() new approach.*

"He's saying things to guys that most coaches don't say," Redding said. "He'll pull you aside and tell you, 'Hey, I care about you and I love you. Friend to friend.' That kind of stuff doesn't come from coaches very often. That's the type of stuff I'm talking about. Emotionally and physically, to his friends, to the team, to his family, he's not holding anything back.
"You never know. One day you're here, one day you aren't."
While his battle with cancer surely provided Pagano with a new perspective on life, it isn't necessarily accurate to say it was the sole source of this current vibe about him. After all, Pagano has always been well-liked and kind-hearted.
That's partly why punter Pat McAfee -- who first sparked the popular #ChuckStrong movement on Twitter that spread through the team, community and league last year -- believes so many rallied around the Colts coach.
"Any time you can take a little positive out of a negative experience, I think it's beautiful," McAfee said. "That's what ChuckStrong was. We raised so much money -- but the only reason was because the man at the head of it was a kick-ass human being. The people rallied around Chuck because Chuck Pagano is an amazing dude."
And it is very clear that they all plan to continue that rally in 2013.
Outside the team's facility, raised on a pole just below the American flag, is another flag that serves as a reminder of Pagano's battle. Emblazoned with a ribbon and the words, "ChuckStrong," it's meant to symbolize the organization's support for the fight against cancer.
Brooks: Luck vs. Kaepernick
Kaepernick are emerging stars. Which QB is better? Bucky Brooks' pick might surprise you. More ...
But around the facility, there's another slogan being used: ColtStrong. Although the Colts will still use the "ChuckStrong" campaign as a vehicle to raise money for cancer research -- Pagano plans to hold an annual ChuckStrong fundraiser to benefit Indianapolis' Leukemia and Lymphoma Society -- they're also going to try to move forward as a football team.
It won't be a forced issue. And it hasn't been widely discussed. Pagano, though, believes the ChuckStrong theme will organically fade -- just as his cancer has.
"Nobody had to come in here and say, 'OK look, take the wristbands off, take all the signs down,' " Pagano said. "Every now and then, Andrew still wears a T-shirt. Yeah, it's going to be there. But is that going to be our motivation? Is it going to be our rallying cry? Not necessarily."
Then again, it might not need to be.
Around these parts, a catchy slogan is no longer required to bring this team and this community together. McAfee said the bond that initially formed among the players last year still endures, holding firm even as the Colts' magical and unexpected ride to the playoffs recedes into the past.
"I don't think ChuckStrong will ever die, and I don't think it ever should," McAfee said.
Whether it can be attributed to the new perspective on life that Pagano shares with his players or the chemistry that was created by Pagano's battle with cancer, there's no denying that something is different around Indy.
"What motivates you? What are you doing this for? Around here, we all seem to know."
  -- 
 *Backup quarterback **Matt [Hasselbeck]()**, on the feeling in the [Colts']() locker room.*

"I don't know what effect his fight with cancer had, but it feels like people here have football in proper perspective," Hasselbeck said. "I think they've almost found that lightning in a bottle that every coach tries to manufacture. It's just sort of legit. What motivates you? What are you doing this for? Around here, we all seem to know."
That's because Pagano helps them find it.
"You don't understand completely at the time when you go down to the hospital and the doctor looks you in the eye, and he says, 'Hey, you've got leukemia,' " Pagano said. "So now when I sit there, and I talk to the team about taking no days for granted, they look at me a little bit different.
"I've been blessed to be healthy, to get through what I had to get through with the help of everybody. So I think it's more how you look at life. We're not promised today. So take advantage of every day."
Pagano's leukemia is now in remission. For the next two years, he'll take ATRA for a period of two weeks every three months. It makes him tired at times, yes, but it's nothing he can't handle.
"As much energy as I have, and as blessed as I am, it almost seems surreal to me right now," Pagano said. "Being back in the meetings, back at the job full time, it's almost like it never happened."
Debate: Toughest shoes to fill?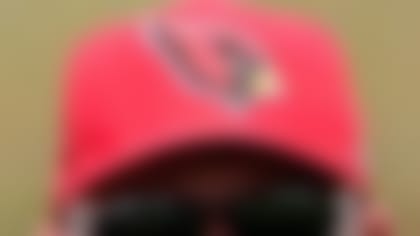 But it did happen. And it takes nothing more than a long conversation with him or his players or his family to realize that it had a major impact on Pagano and everyone around him.
Now, one day at a time, Pagano will work toward crossing off lines on the bucket list in his head. What else is on that list, you ask? For that answer, let us not forget who Pagano is. Let us not forget what he does and what he loves.
Pagano wants to win a Super Bowl. And you had better believe that everyone around him wants to do it with him.
"That's what we always talk about," Redding said. "That's on his list. And I want to scratch it off with him. As a friend first and as a player second, I'm going to do everything in my power to help make that happen."