The Checkdown's daily collection of football culture stories for October 4th, 2017. This is the Extra Point.
Only 8 teams in the NFL currently have a losing record going into Week 5, but only the Panthers-Lions game features two teams with winning records. Both currently sit at 3-1.
And the top 5 most common nightmares for QBs...
What's wrong with a little enthusiasm?
Bills fans on Reddit are in a good mood after consecutive victories and noticed Coach McDermott likes to clap on the sidelines. Naturally, they decided to celebrate their coach with this ridiculous image.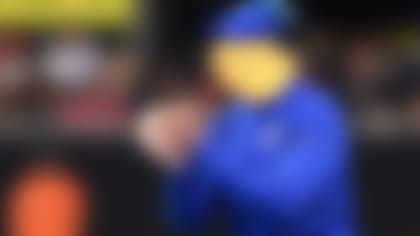 Sometimes you're good, Internet. Sometimes you're good.
This is one way to motivate your players
I've heard of rice at a wedding, but...
Step aside, Vince Vaughn and Owen Wilson, there's a new guy attending strangers' nuptial agreements. Apparently, Jerry Rice is getting restless in retirement and has been making a habit of popping into San Francisco-area weddings every weekend. Rice said he doesn't want to be a distraction and just likes to bring people joy (we also know he's light on his feet from his season of Dancing with the Stars).
So if you're planning a wedding and hoping a Hall of Famer will attend, consider choosing the venue where Rice likes to play golf.
Thursday Night Football will be historic, one way or another