It's summer time at the NFL.  During the next few weeks, we here at NFL.com  will unveil our Most Underrated and Overrated Players of All Time for all 32 teams and allow users to determine their choices as well.
The Chicago Bears have 33 Hall of Famers (27 of whom made their primary contributions with the team), are one of the most iconic teams in the Super Bowl era, and have possessed a slew of beloved players. Sitting down to research and write a piece like this on a franchise with the history of the Bears is daunting. Bears fans should find solace in the fact that their rich history remains intact. There isn't a single George Halas-era player on the overrated side of the list. If you have complaints or suggestions, send them to @AlexGelhar to keep the discussion rolling.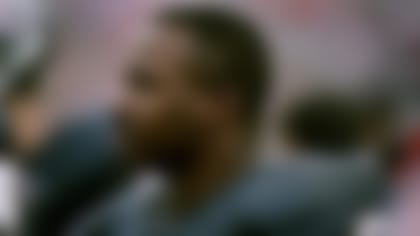 Neal Anderson -- RB, 1986-93
It's never easy following a legendary NFL player. And when that player is Walter Payton, it's even harder. Yet, that's just what Neal Anderson did. Anderson took the reins after Payton retired in 1988 and never looked back. Anderson rushed for more than 1,000 yards and at least 10 touchdowns every year from 1988-1990, twice helping carry the Bears to the playoffs where they lost to the eventual Super Bowl champion (San Francisco in 1988, New York in 1990). Unfortunately for Anderson, his time came after one of the greatest running backs to ever play the game, and right at the beginning of the Bears' fallout during the early 1990s. Had he rushed at a better time for the Bears, he wouldn't need to make underrated lists.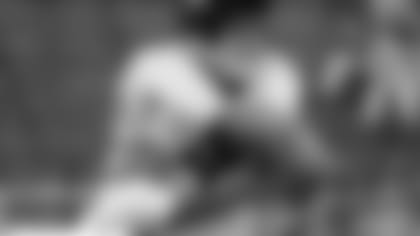 Johnny Morris -- WR, 1958-67
The one thing the Bears have lacked in their storied franchise is an "it" wide receiver. Of their 33 players in the Hall of Fame, not one is listed as a wide receiver. They're loaded with icons at almost every other position, but a stellar, game-changing wide receiver has eluded the franchise. Morris, however, is worthy of consideration. Morris played his entire career for the Bears from 1958-1967, during which he compiled the most receiving yards in Bears history with 5,059. His best season came in 1964, when he snagged 93 passes for 1,200 yards and 10 touchdowns. Receivers nowadays would kill for those numbers, and Morris did it in an era when quarterbacks didn't throw 40 passes a game. That's some impressive production for 1964.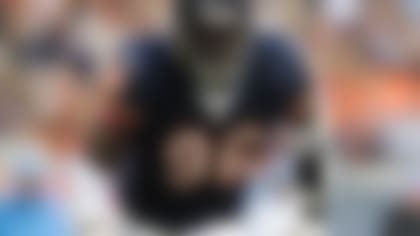 Alex Brown -- DE, 2002-09
Brown played defensive end opposite Adewale Ogunleye during the mid-2000s when the Bears defense carried the team to Super Bowl XLI. That unit ranked third in scoring defense, and fifth in yards allowed. One of the most unheralded players on that unit was Brown. The team was loaded with playmakers, yet Brown is almost always one of the last names mentioned. Brown was the type of quiet, high-motor player defensive coordinators covet. He was second on the team with seven sacks during the 2006 season, when he also intercepted two passes, forced three fumbles, and batted down four other passes. Talk about productivity. While Ogunleye was the higher-profile, more-lauded defensive end, in reality it was Brown who was grinding it out -- and making the biggest difference for the Bears. (OK, Mark Anderson's 12 sacks helped too, but that was only in a pass-rush specialty role).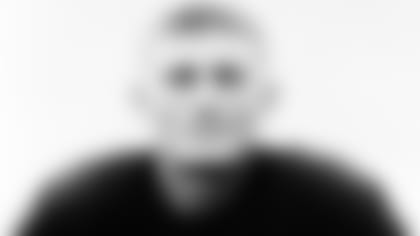 Harlon Hill -- LE, 1954-61
Funny how I mentioned the Bears lacked an "it" receiver, yet here I am writing about the second receiver in five underrated players. Hill was a rare specimen who was dominant before the passing attack came into vogue. Hill went to three consecutive Pro Bowls upon entering the league in 1954. Check out these stat lines from 1954 and 1956 respectively: 45/1,124/12 and 47/1,128/11. Those are fantastic numbers even by today's standards, but what's most impressive is how few receptions it took Hill to achieve those numbers; he averaged 25.0 yards per catch, and 24.0 yards per catch during those seasons. Wow.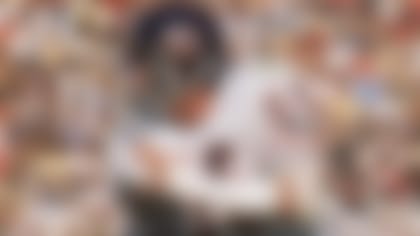 Doug Buffone -- LB, 1966-79
The proud Bears franchise endured some dark times between the Halas and Ditka eras, but one of their shining stars during the period of time was Doug Buffone. Buffone was a tackling machine, and anchored the Bears defense for 14 seasons. The Bears have a littany of iconic, Hall of Fame caliber linebackers in their history (Dick Butkus, Bill George, Bronko Nagurski, Mike Singletary, and so on) yet because Buffone was lost in the middle of those names, he's never discussed. He deserves to be in the discussion. Buffone started 186 games as a Bear, during which time he recorded more than 1,200 tackles and 24 interceptions (the most by a Bears linebacker in franchise history). That production on an unheralded team is exactly why Buffone makes this list.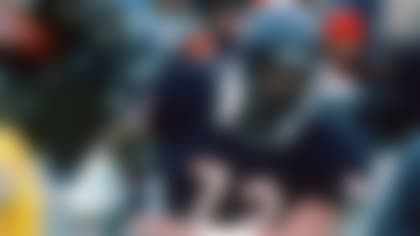 William "The Refrigerator" Perry -- DT, 1985-93
This pick was almost too easy. The Fridge lives on in NFL lore more for his persona than his actual play on the field. Sure, he made some plays for the fearsome Buddy Ryan defense in 1985, but how many of those were created because he was playing along side Richard Dent, Dan Hampton and Steve McMichael, who between the three of them that year alone had two first-team All-Pro awards and two Pro Bowl berths? Perry had neither, nor did he earn either accolade throughout his entire career.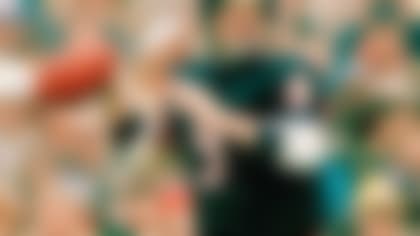 Jim McMahon -- QB, 1982-88
It was tough putting McMahon on this list, because the punky QB's stats don't tell the whole story of what he did for the Bears in the 1980s. His personality, leadership and swagger were as much a part of his success as his stats on the field. Just look at the Viking Miracle if you need proof. Nevertheless, McMahon can't get carte blanche because he won a Super Bowl. The fact of the matter remains that 1985 was his peak. He had career highs in yards and touchdowns, and because of injuries and other mitigating factors was never able to reclaim that magic he had when he played lights out during the Bears' Super Bowl run.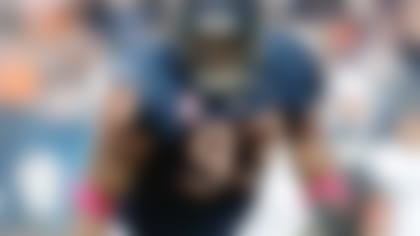 Adewale Ogunleye -- DE, 2004-09
The Bears made a splash before the 2004 NFL season when they traded Marty Booker and a 2005 third-round draft pick to the Miami Dolphins for Ogunleye, who was supposed to spearhead the Bears' pass rush for years to come. The results were, well, less then desired. Ogunleye had productive seasons, but not enough to warrant what the Bears gave up for him in the trade or for his contract. In the end, Ogunleye was a good player who helped the Bears reach Super Bowl XLI, but his name gets tossed around more than it should (and more than a player on the flipside of this list).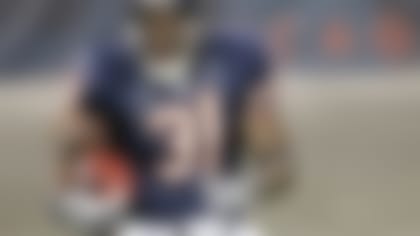 Nathan Vasher -- DB, 2004-09
It seems unfair putting a fourth-round pick in the overrated category, but Vasher lands on this list as a victim of his own success. Vasher became a starter in his rookie season, and posted a career year in his sophomore campaign when he paced the NFL with eight interceptions and also set a record for the longest return touchdown of any kind when he took a Joe Nedney missed field goal to the house -- from eight yards deep in the end zone. Vasher signed a nice extension after the Bears' Super Bowl run in 2006. However, injuries and mediocre play prevented him from living up to that contract. Vasher was a solid player, but too many people remember him for his outstanding 2005 season, and not the four average seasons he posted after.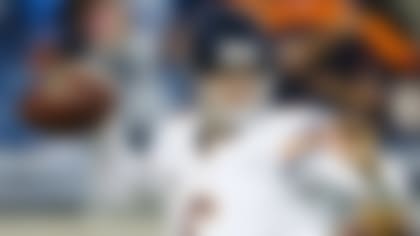 Jay Cutler -- QB, 2009-present
I feel badly about putting Jay Cutler on this list because, well, the guy gets piled on by the mainstream media at times. That being said, when you look at Cutler's body of work as a Bear, it's easier to have him land on this list (and also easier than trying to find an overrated player from the Halas era, because those guys were GOOD). Cutler is often regarded as just outside the cusp of the "elite" quarterbacks in the NFL thanks to his cannon arm, but in reality his stats don't merit that level of consideration. Even in 2012, when he was finally reunited with Brandon Marshall, Cutler only threw 19 touchdowns and completed less than 60 percent of his passes. By comparison, both Russell Wilson and RGIII exceeded those totals as rookies. Until Cutler is able to cash in on his physical potential and even out the mental side of his game, he'll have to suffer labels like "overrated" for years to come.