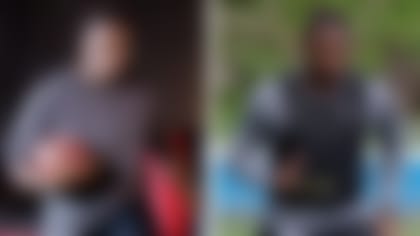 NFL draft prospect, and likely first-round pick, Calvin Pryor gave NFL Up! a few minute of his time to talk about preparing for the combine, his pre-draft training routine and how he became a top-flight safety prospect.
Q: WHAT WORKOUTS DID YOU DO TO PREPARE FOR THE COMBINE?
A: I used a lot of what we call the "Shred-mill." It's like a treadmill, but you're basically running up hill and it's getting faster as you go. It definitely helped at the combine because it teaches you drive phases, how to pump your arms and how to use different aspects of your body.
Q: WHAT HAVE YOU BEEN FOCUSING ON POST-COMBINE?
A: Since I'm not focusing on my speed as much now as I was heading into the combine, I'm really focusing on my position work, trying to perfect how I play the safety position. I've been doing a lot of backpedaling and drills that focus on turning my hips, which help me out on the football field.
Q: WHAT ELSE ARE YOU TRYING TO IMPROVE BEFORE THE 2014 NFL DRAFT?
A: Guys have been having a lot of questions about whether or not I can play man-to-man, so I've been watching a lot of film lately. I'm trying to study tendencies of receivers that are already in the NFL, so I can have a jump on them once I get to that next level l so I can know what to look for and what to be prepared for.
Q: WHAT DID YOU DO WHEN YOU WERE YOUNGER THAT HELPED YOU TURN INTO A FUTURE NFL SAFETY?
A: I played three sports in high school, baseball, football and basketball. Baseball really helped me a lot. I played center field, which helped me develop my range to go get the ball in the air which helps out when you're playing football, especially at safety. Rebounding helps a lot with your ball skills, because you're able to go get the ball at a high point, which is what they want you to do in football. Most guys lack that skill because they haven't played any other sports. Basketball also helps you learn to move your feet by playing defense and guarding guys, and that all carries over to playing football with staying square and having good footwork.
Q: THE MOST IMPORTANT TRAIT A SAFETY NEEDS IS ...?
A: You have to be intelligent. You have to know what other guys are doing because you're in the back end and you see everything, so you have to alert others what to be ready for, and that makes it easier on everyone. It's just like playing offense, but now you're the quarterback of the defense, and you need to be vocal and take on that leadership responsibility. If you do, everything else becomes easier.
Q: ANYTHING ELSE YOU'RE WORKING ON ASIDE FROM FOOTBALL PRIOR TO THE DRAFT?
A: I'm just trying to eat healthy. That's my biggest thing right now. Staying away from fried foods, eating more greens and grilled food, just keeping my body right.
Want to learn more NFL player workouts and offseason training tips? Visit NFL Up! to discover the workout secrets of the NFL's best and get fit like your favorite player!