Talking with members of the Browns' offense this week, NFL Media Insider Ian Rapoport heard something similar when he asked them, "Aren't you excited for when Josh Gordon comes back?"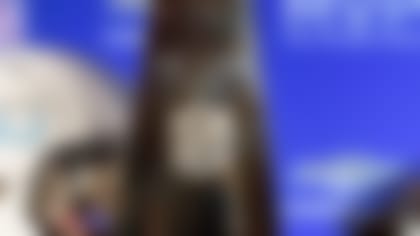 The NFL playoff picture is shaping up as teams head deeper into the 2014 season. Who looks promising? Who's on the edge? **Check it out**
"The response was, 'We have not allowed ourselves to (be). We don't want to look ahead and say that, oh, this offense will finally be fixed when Josh Gordon is back,'" Rapoport told Around The NFL ahead of Cleveland's Thursday Night Football showdown with the Bengals on NFL Network.
"Instead, they are saying they are simply working with the receivers they have -- some hard-working receivers -- and, actually, Josh Gordon's going to need to fight his way back into this offense when he returns."
Eligible to play in Week 12 against the Falcons, Gordon has been lifting with the team and sitting in on meetings. The guidelines of his suspension dictate that he won't be allowed to work with quarterbacks or participate in football activities until his ban lifts on Nov. 23.
As we mentioned on NFL NOW, the Browns don't need to change the way they move the ball to incorporate Gordon. He's a talent that fits into any type of offense, giving the Browns a big-bodied, clear No. 1 wideout to bolster a receiving corps headlined by a pair of diminutive targets in Andrew Hawkins (5-foot-7) and Taylor Gabriel (5-foot-8).
Gordon's presence on the field is likely to create looks for tight end Jordan Cameron and keep defenses honest against the run after weeks of Cleveland facing consistent eight-man fronts.
Gordon didn't look sharp in the preseason, but that came during a time when last year's league-leading receiver was tangled in the drama of his then-pending banishment. With that trail behind him, we fully expect Gordon to see heavy playing time out of the gate -- no matter what the Browns say.