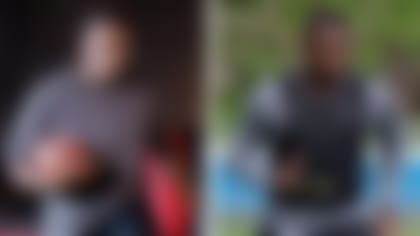 With the 2014 NFL Draft right around the corner, NFL UP! interviewed seven top prospects who play a variety of different positions about their workout and nutrition regiments. Our next featured interview is with Brandin Cooks, the speedy wide receiver from Oregon State, who talks about using his size to his advantage, the importance of cone drills and his love of quinoa.
A: For me I trained at the Athletes' Performance Institute (API) in San Diego. It was one of those things where you wanted to stay fit. I understood I was always fast so I never focused on anything specific. I just went out there and trained and stayed fit. And that was my whole motto.
Q: DID YOU TRAIN DIFFERENTLY FROM WHEN YOU WERE IN COLLEGE?
A: Not really. The good thing about our weight training at Oregon State was that it was similar to the API training. It was definitely the same type of concept. So it wasn't really anything different.
Q: WHAT SPECIFIC DRILLS DO YOU DO THAT SEPARATES YOU FROM OTHER POSITIONS?
A: I do a lot of cone drills for my feet. As a receiver, to be able to have good footwork is an important part of your game.
Q: IS SPEED THE MOST IMPORTANT TRAIT FOR A WIDE RECEIVER?
A: For myself, yes. Obviously, for not being a  6-foot guy I definitely have to make up for that area. I pride myself on that.
Q: HOW DO YOU USE YOUR SIZE TO YOUR ADVANTAGE?
A: I'll be able to slip into those holes, catch balls underneath and take advantage.
Q: WHAT ADVICE DO YOU HAVE FOR YOUNG RECEIVERS OUT THERE? ANY DRILLS?
A: For me watching a lot more film (helped a lot.) To be more familiar with coverages is an important part of your game that you need to have. Drill wise, cone work with the feet because it sets you up for bigger routes.
Q: TALK TO US ABOUT YOUR NUTRITION? WHAT ARE YOU EATING?
A: Going into my junior year I started eating more organic food for staying healthy and cleaning up my diet, and also avoiding fast foods. I haven't had fast food for a couple years now. I eat quinoa instead of rice. I eat elk. And some duck.
Q: WHO IS AN NFL PLAYER YOU'VE MODELED YOUR GAME AFTER?
A: Definitely Steve Smith. Being a player under 5-foot-10, he's the best to do it. He's a great route runner. He's smart. Has a killer instinct he brings to the game.
Want to learn more NFL player workouts and offseason training tips? Visit NFL Up! to discover the workout secrets of the NFL's best and get fit like your favorite player!