INDIANAPOLIS -- The second day of on-field workouts at the 2014 NFL Scouting Combine featured the glamour positions: quarterback, running back and wide receiver (a high-interest group, to say the least). Here are my thoughts on the prospects who stood out, for better or for worse:
Blake Bortles, QB, Central Florida: As the only member of the "Big Three" quarterbacks (Teddy Bridgewater, Johnny Manziel and Bortles) to throw in front of the scouts, Bortles took advantage of his opportunity to convince everyone that he's a legitimate franchise quarterback. Bortles certainly impressed evaluators with his statuesque frame and prototypical physical dimensions (6-foot-5, 232 pounds). Additionally, his athleticism was better than anticipated, as the Central Florida product logged nice marks in the vertical leap (32.5 inches) and broad jump (9-7).
In throwing drills, Bortles showed above-average arm strength and touch on vertical tosses, dropping the ball down the chute on go-routes and post-corners. He also flashed superb anticipation on intermediate routes by routinely delivering the ball right in the strike zone on digs and speed outs. Although he was slightly off target on a handful of throws, Bortles' ball placement was on point for most of the session. With a few more workouts (including his pro day) to strut his stuff, Bortles' draft stock should just continue to rise.
Sammy Watkins, WR, Clemson: Watkins delivered on his promise to put on a show at the NFL Scouting Combine. The Clemson standout clocked a 4.43 40-yard dash, while also displaying exceptional quickness in change-of-direction drills. Most importantly, Watkins showed strong hands and excellent ball skills while snatching live throws in the positional workout. He is more polished than I expected as a route runner, displaying balance and body control while getting in and out of breaks. With a strong resumé backing up his athletic exploits, it's a virtual lock that Watkins will be the first receiver to come off the board on draft day.
Mike Evans, WR, Texas A&M: Big-bodied receivers are all the rage in today's NFL, with the likes of Calvin Johnson, Brandon Marshall, A.J. Green, Larry Fitzgerald and Julio Jones setting the standard at the position. Following his strong performance at the combine this weekend, Evans could be next in line. Standing 6-4 3/4 and 231 pounds, Evans clocked a 4.53-second 40 and posted a 37-inch vertical jump. While those numbers don't jump off the stat sheet at first glance, when you consider his massive frame, the marks reveal a dynamic big guy with exceptional lower-body explosion. Evans also displayed better-than-anticipated fluidity and body control in his route running. He was efficient getting in and out of the breaks, and flashes a burst tracking balls down on intermediate routes. Most importantly, Evans caught the ball well in drills, exhibiting strong hands while snatching everything in his sizable strike zone. Given the impact big receivers are making on the league nowadays, Evans is an intriguing prospect with the potential to be a true No. 1 receiver.
Brandin Cooks, WR, Oregon State: The Biletnikoff Award winner continues to impress scouts with his combination of speed, quickness and burst. Cooks led all receivers in the 40-yard dash (4.33), 20-yard shuttle (3.82) and 60-yard shuttle (10.72). He continued to impress in positional drills by exhibiting noteworthy polish as a route runner. Cooks is not only smooth and fluid coming out of breaks, but he shows terrific awareness in finding the ball at the last minute. These traits are uncommon in young receivers, which is why the buzz should build around Cooks' game and potential following his solid performance in Indianapolis.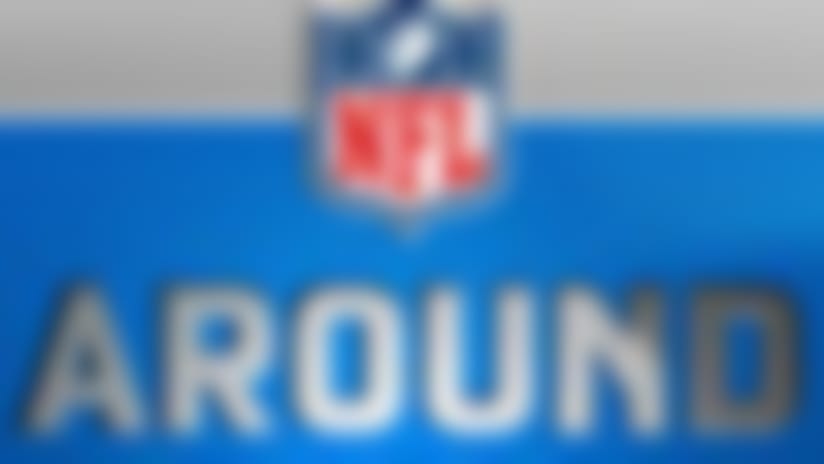 The Around The League team hits all the NFL's hottest topics in its award-winning podcast. Join the conversation. Listen
Odell Beckham, WR, LSU: The LSU star has rarely been mentioned as a top prospect, but he should get plenty of burn after posting impressive times in the 40 (4.43), 20-yard shuttle (3.94) and 60-yard shuttle (10.93). This confirms the explosiveness displayed by Beckham on tape, solidifying his status as one of the most dynamic offensive weapons in the draft. Additionally, Beckham caught the ball well and was more polished as a route runner than I expected. With Beckham also regarded as one of the top returners in college football, it's quite possible he enters the discussion as a Day 1 selection.
Teddy Bridgewater, QB, Louisville: Bridgewater is considered the most pro-ready QB prospect by many evaluators, but his decision to bypass much of the workout has led to questions about his athleticism and arm talent. No throwing drills, no 40-yard dash, no 60-yard shuttle -- these voluntary absences have scouts wondering about his overall competitiveness. Bridgewater can certainly erase doubts by performing well at his personal workout, but questions about a possible diva-like attitude could linger.
Ka'Deem Carey, RB, Arizona: The Arizona standout was unquestionably one of the top runners in college football, as evidenced by his 3,814 rushing yards over the past two seasons, but his pedestrian 40 time (4.70) will scare some teams off. Carey looked lethargic running down the track, casting doubt upon his home-run speed at the next level. Although Carey's track record and film suggest he will not have a problem generating production as a pro, the disappointing time on the stopwatch could diminish his value on draft boards around the league.
Jarvis Landry, WR, LSU: Landry entered the weekend viewed as a solid Day 2 selection, but his disappointing 40 time (4.77) and vertical leap (28.5 inches) spawn concerns about his overall explosiveness. Teams now view Landry as a possession receiver with limited big-play potential, despite his impressive flashes on tape. Given the depth and talent of the 2014 receiver class, this lackluster showing in Indy could push Landry into Day 3 consideration.
Guys in the spotlight on Day 3
Jadeveon Clowney, DE, South Carolina: Breathless Clowney hype has been replaced recently by questions about his work ethic, desire and leadership skills. Teams wonder if he has the intangibles needed to be a great player at the next level, despite his freakish athletic talent. With cautionary flags beginning to pop up in conversations about Clowney's worthiness as the top overall pick, the South Carolina star must put on a show Monday to tip the risk-reward ratio in his favor.
Anthony Barr, OLB, UCLA: A short time ago, Barr was considered the biggest challenger to Clowney's status as the No. 1 defender in the draft, but the buzz has subsided in recent weeks. Questions about Barr's technique and polish have led some to designate Buffalo's Khalil Mack as the top contender to Clowney's throne. Given the recent slide down the charts, Barr needs a strong performance in drills to put himself back into the conversation about 2014's top defensive prospect.