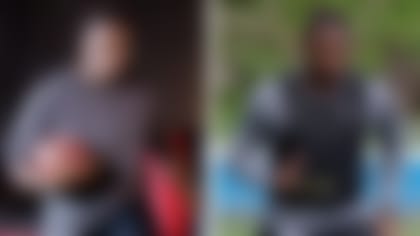 The Tennessee Titans made Bishop Sankey the first running back selected in the 2014 NFL Draft when they took him in the second round. NFL UP! chatted with the former University of Washington star about his workout and nutrition regimens.
Q: WHAT'S IT BEEN LIKE FOR YOU SINCE YOU GOT DRAFTED?
A: It's been a great feeling. It's starting to sink in now. It's been a dream come true. Something I've wanted to happen since I was seven years old.
Q: WHAT WAS YOUR FITNESS ROUTINE LIKE IN COLLEGE?
A: It varied. It depended on what time of the year it was. Most of the time in the offseason we had workouts at six o'clock or nine or twelve and you were divided by group. So I'd be at the second group at nine o'clock and we'd have a lifting session in the morning. Then a conditioning session.
A: We ran them at the University of Washington. We ran them during the season and offseason. In the offseason, we ran them at the end of each morning workout, where as during the season we ran them on Sundays just to run some of the lactic acid in our legs from the game. They helped me keep conditioned.
Q: WHAT'S THE MOST IMPORTANT PHYSICAL TRAIT AND DRILL FOR A RUNNING BACK?
A: I think an important physical trait that a running back needs is power and explosion. Just because that first yard through 10th yard is vital in terms of exploding through the hole and getting to the second level as quickly as you can. For me, a drill that's helped me become more explosive is the back squat. That's been a big deal. Also, resistance running.
Q: WHAT'S THE TOUGHEST DRILL YOU FACED GROWING UP, BUT HAS BENEFITTED YOU THE MOST?
A: The toughest drill I faced were team runs at the University of Washington. It was every Friday morning and it's an half hour to hour of non-stop drills. You're going station to station. Seven minutes straight at each drill. It's a gigantic conditioning and agility drill. It's been difficult, but it's helped me become more agile.
Q: WHAT WILL YOUR FITNESS REGIMEN BE LIKE NOW WITH THE TITANS?
A: I honestly don't know at this point. I'm pretty sure it will be similar to the University of Washington.
Q: WHAT ADVICE WOULD YOU HAVE FOR FUTURE RUNNING BACKS?
A: One piece of advice I have for running backs with NFL aspirations is remain consistent with what you're doing. Stay in the weight room consistently. Constantly work on your lower body. Power, strength and flexibility. A lot of young football players overlook that flexibility is an important part of being a successfull athlete. And it really does help where running is concerned and injury prevention as well. Be focused, disciplined and consistent.
Q: WHAT IS YOUR NUTRITION AND DIET LIKE?
A: For me I'm trying to maintain my weight. After workouts in the morning, I'll eat a healthy lunch. Carbs, meats, vegetables, all that in one. Prior to that I'll have a protein shake as well to get the extra calories in there. I'll have an afternoon snack, sometimes a protein bar or shake. For dinner I'll have another big meal. Then a bed time snack. I'm pretty much eating all day just to maintain my weight.
Want to learn more NFL player workouts and offseason training tips? Visit NFL Up! to discover the workout secrets of the NFL's best and get fit like your favorite player!