FOXBOROUGH, Mass. -- The New England Patriots veterans report to training camp Thursday, and, as is the case in 31 other NFL locales, the head coach will address his players to kick things off.
It's hard to imagine Bill Belichick avoiding the Aaron Hernandez situation in that speech. Most who've been around Belichick, in fact, think he won't.
Debate: Belichick on Hernandez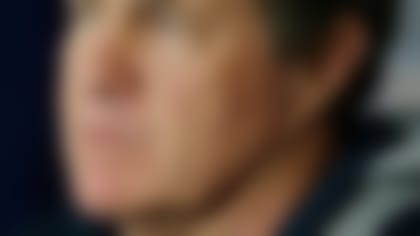 Bill Belichick addressed the Aaron Hernandez situation for the first time. Our analysts share their reactions. **More ...**
But after that? It will be over, at least for the team. And then, while the rest of us tell the story of the 2013 Patriots through the same kind of split-screen viewpoint that we saw Wednesday -- with the coach on one half, and his embattled ex-tight end on the other -- every effort will be made by the team to make the vision singular.
It can work, too. It did to near historic results in 2007. It can again, provided the Patriots keep winning, as they have over the course of the past dozen seasons. This situation is different, and more serious to be sure, than the Pats' videotaping scandal. But just like that was destined to be part of the 2007 Patriots' story, Hernandez's travails forever will be attached to the 2013 Patriots. The only way to make it fade, even a little, is to keep doing what Belichick has generally done, which is win.
"He'll address it (Thursday) in the meeting, and that'll be it," said one former Patriot, who was part of the 2007 team that went 18-1. "Then, they'll never hear about it from him again, I'm totally sure about that."
That's why Wednesday was so important and, to a lesser degree, Thursday is too. In the past, the Patriots have never made coaches or players available to the larger media crowd in the days leading up to the training camp, preferring to start that interaction on the first day of practice. By doing it the way they are this year -- coach one day, 2012 captains the next day, and the first day on the field the day after that -- the club is drawing a very clear line between the Hernandez affair and football.
It won't work completely. It can't, and they know that. Belichick himself said, "I'm not trying to make the story disappear."
Belichick knows the Hernandez cloud will cast a shadow over the whole season, as the case slivers through the legal system. There will be peripheral effects as well. One is that ownership is expected to be more active in clearing rookies and veterans with checkered pasts to be added to the roster.
In 2007, the Patriots played with an edge and anger that left little quarter for the questions on how much rule-breaking had to do with the team's success. They weren't just beating teams early that season; they were crushing them. And in that way, while the videotaping scandal was always lurking, it became more about the past than the present.
"We all knew that -- winning fixes everything," said former Patriot Heath Evans, now my colleague with the NFL Media group. "And we were borderline arrogant, we knew we were gonna be great. So winning wasn't the thing, it was how good we could be, and that whole thing was never brought up again."
If the Patriots fall off in 2013, there will be more questions relating back to Hernandez. Has the character of the team changed? Have the risks they've taken in the draft of late finally come to roost? Can they win without rolling the dice in that way? Is the Patriot Way dead?
If they win, the Hernandez situation is still part of their story. But again, it becomes about their past and not their present.
"You'll see a common theme in what they say, and that'll be what Bill told them to say," said the ex-Patriot. "And they know, winning is the cure-all."
Don't mix it up. It is certainly callous to juxtapose a case that encapsulates five shootings and three deaths against a football season. Belichick's own recognition of that, and his humanity that stretched to a level of embarrassment over the matter, should be proof enough for everybody.
"I'm challenged by decisions that affect the team on a daily basis and I'm not perfect on that either but I always try to do what I think is best for the football team," he said Wednesday. "We spent a considerable amount of time evaluating our current players and educating them on not only football, but many other life experiences and off-field subjects. We stress high character and we stress making good decisions. We'll continue to do this and we'll work to do a better job of it as we go forward.
"We'll learn from this terrible experience that we've had. We'll become a better team from the lessons that we've learned."
By doing what he did Wednesday, Belichick put his team in a better position to move forward. He faced the music, he took responsibility, and defended his players and his program.
For now, he's put himself, and his team, in a position where they won't have the Hernandez case thrown in their face more consistently going forward, which is likely what would've happened had he been dismissive as usual.
But intelligent as he is, Belichick understands the Hernandez story isn't simply going to go away, despite his deflections of not being able to comment on an ongoing legal investigation, and that it'll follow the Patriots for awhile.
And he also knows that just how big a deal it is for the guys who work for him in Foxborough will likely hinge on how they perform.